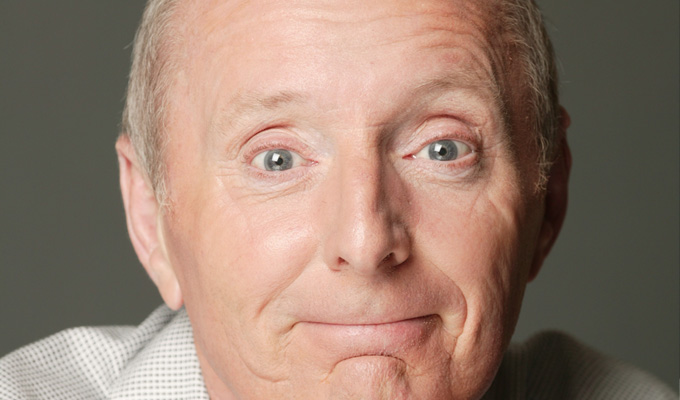 Dave's Leicester Comedy Festival Preview Show 2014
Note: This review is from 2014
Securing Jasper Carrott to host Leicester's comedy festival preview show was something of coup. He doesn't do stand-up much these days, save for compering music-and-comedy shows with his mates, and most younger audiences will probably know him, if at all, as the host of ITV's convoluted gameshow, Goldenballs. But back in the day, he was the master, a pioneer of the now ubiquitous anecdotal form of stand-up that took him all the way to a live, weekly comedy show on primetime BBC One.
Facing an audience that wasn't necessarily there just for him last night, Carrott was a little rusty, noticably hesitant in getting some of his routines under way and creaky in doing some of the business mechanics of the night. But as he hit his stride in the routines, the old magic sparkled through, his incredulous bewilderment at some aspects of the world sitting well on his 67-year-old shoulders. And that bug-eyed face can epitomise gormless like no one else since, and he deploys it deftly. It would be great to see him back for real.
Carrott came to the stage after a leaden video about Leicester's car parks, which contained precisely the number of laughs you would expect a video about Leicester's car parks to hold, followed by an unexplained and uncredited act: two women dressed as cats operatically meeowing their way through a song. And why not?
There are always two audiences at the preview show; the comedy-savvy bunch looking for tips for the forthcoming event, and an older, more mainstream crowd who come because it's a local Event, with a capital E. This year, the preview has split into two: this prestige show in the De Montfort Hall and an intimidating marathon gig tonight in which 21 acts perform ten minutes each. Well, I say tonight, it could still be going on by Tuesday...
This year programmers of the main gala managed to showcase a diversity of talents, some of them odd, yet still play relatively safe, which probably appeals to that mixed demographic.
First up, for example, was Little Howard, the six-year-old cartoon stand-up now animated live by his handler, Howard Read, standing in the shadows, stage left. It took the audience a while to realise it was interactive – and perhaps that element needs to be emphasised up front; plus the rocky start was made even rougher with a too-convoluted opening joke about Jasper 'Parrott' and Frank Carson. But once it was established what was going on – and that Read wasn't as hopeless as that ill-judged gag suggested – this proved an entertaining mix of innovation and silly gags.
Next up, Marc Lucero, earning his place here after winning the Silver Stand-Up competition for older comics at last year's festival. Though a bit fidgety in his delivery, constantly fiddling with glasses and tie, this wild-haired comic's keen comments on hitherto unnoticed oddities of modern life struck a rewarding chord, with his wry common-sense observations polished into neat punchlines. His resigned take on corporate social-media marketing was a particular high.
From robust, traditional stand-up to the avowedly unconventional, with absurdist Paul Currie presenting a series of disjointed scenarios of physical comedy to wildly varying effect. His melodramatic finale, in which he devours a bowl of breakfast cereal, is splendidly playful. Others, like the deliberately awkward silence at the start or the low-rent conjuring trick elicited more WTF? that LOL. Still, he's an intriguing, unusual performer with a nice line in audience participation, Boy With Tape On His Face-style.
Sarcasm isn't the lowest form of wit, lazily rewriting song lyrics to make them a little bit rude is. But Adam Kay has actually injected a rare creativity into this rightly-maligned form, crowbarring proper jokes to the rhythm structure of familiar hits. These include sick gags about Oscar Pistorius, long-form puns based around his former experiences as an anaesthetist, and the obligatory jauntily crude rhymes, but kept brief and powerful. If there was one act that stormed it most tonight – and in this Simon Cowell world every form of entertainment has to have a winner – it would be Kay and his grand piano.
Last year's BBC New Comedy Award winner, Lucy Beaumont, delighted audience in her own endearing way. Reinforced by her folksy Hull accent, she paints a vivid, heightened picture of an unsophisticated, quirky city. Mocking it, yes, but with a genuine affection as she acknowledges that it's a place that defined her own character, ditzily dim-witted but with a friendly naivity that charms. There's some great material – and a couple of chunks that are more predictable – but the fully-formed persona is an absolute delight.
Paul Tonkinson's been doing gags about unadventurous stay-at-home Yorkshiremen and his wife getting randy when drunk for what seems likes decades, and he isn't going to start changing now, especially as it works so well. But while the 'men are like this, women are like this' generics are over-familiar, his skill is in re-enacting the scenarios with well-judged exaggeration and cartoonish characterisation, amplifying the smiles of recognition into proper laughs as he wrings the most out of very recognisable, quotidian scenes from his life.
Further embracing what had become something of a theme tonight, Tom Stade shared his experiences of growing old and out-of-touch. Delivered with a battered suaveness, his extended tale of how he's not as cool or vibrant as he once was evoked a detailed tragi-comic image. It's not a set packed with killer punchlines, but proves a consistently entertaining, skilfully self-deprecating yarn, with plenty of chuckles at his ongoing predicament. It was a solid end to a modestly eclectic night, teasing just some of the many styles that will be on offer when the 522 shows of the festival proper begin.
Review date: 12 Jan 2014
Reviewed by: Steve Bennett
Reviewed at: Leicester De Montfort Hall
Recent Reviews
What do you think?