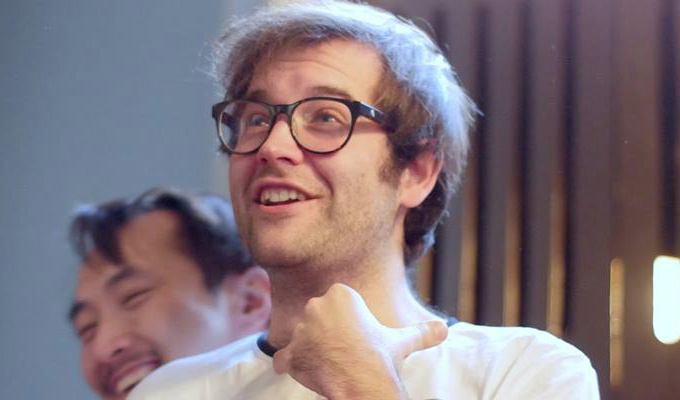 Tone of Voice: Comedians Improve Advertising
Note: This review is from 2018
Advertising, ideally, finds a single message and pursues it relentlessly and efficiently. No such effectiveness with this new comedy night based on the business, however, which has a good central idea but is way too rough around the edges to pay off properly.
Slickness has never been a key attribute for Adam Larter, the lynchpin of the Weirdos comedy collective who came up with this concept through his day job in adland. But, surprisingly, as host he proved to be one of the more disciplined on the bill.
The premise is that we in the audience are all potential clients, in tonight's case NatWest executives seeking new ideas to promote our student services, and Larter the account manager bidding for the business. So with the assistance, or otherwise, of Joz Norris as his eager but inept intern full of cheerily odd interjections, he introduces a succession of creatives – or comedians – with their pitches for the ad campaign.
It's a strong concept for sparking creativity from the comedians, teeing up potential satire about the power of banks and advertising – an opportunity largely overlooked in the name of absurdity.
But the main problem is that most routines went on for about twice as long as was needed, dogged by indulgence and indiscipline. Almost all the sections felt like the very rawest of new material, as yet unedited for public consumption. There were good lines and ideas but concealed in a lot of guff.
To kick us off, Rosie Jones suggested a competition for new account-holders to get free use of herself, or Win A Rosie, even if the tagline suggesting you bank with NatWest if you want WAR might not play out well.
Then the focus turned even more peculiar and complicated: Michael Brunstrom evoked a convoluted audience gameshow about the servitude of capitalism, then James Ward got himself waylaid with an over-involved dissection of inflationary pressures on the lyrics of Mary Poppins songs, and after the break, Grianne Maguire became wistful about Mad Men… though her evocation of the Kendal Jenner Pepsi ad was a pointed reminder of how crass and patronising bad advertising can be.
Eleanor Morton was more on-focus with a parody of the posturing bullshit surrounding the industry in her guise as a creative who just wanted to rip up the rules – one of the stronger contributions to the night, along with the comic who followed her, Stuart Laws. His sterling idea was that he was presenting the PowerPoint of an absent colleague, whose slides revealed an increasingly desperate home life. The writing needed finessing, but he served up an entertaining segment before the gig returned to full-on insanity with Helen Duff babbling away about… well, it's not quite clear, but it wound up involving fancy dress, a hairdryer and a wad of fake banknotes. Funny peculiar, certainly.
The problem is that just arsing about means the show loses the focus on advertising which is, to borrow an industry acronym, its USP – and certainly what drew in a lot of the audience, dominated as it was by people in the business.
Advertising is a fertile ground for comedy – there was even a hit Australian panel show called The Gruen Transfer dedicated to the subject – but this sho is currently too raggedy to find its targets.
Review date: 16 Jan 2018
Reviewed by: Steve Bennett
Reviewed at: The Albany
What do you think?