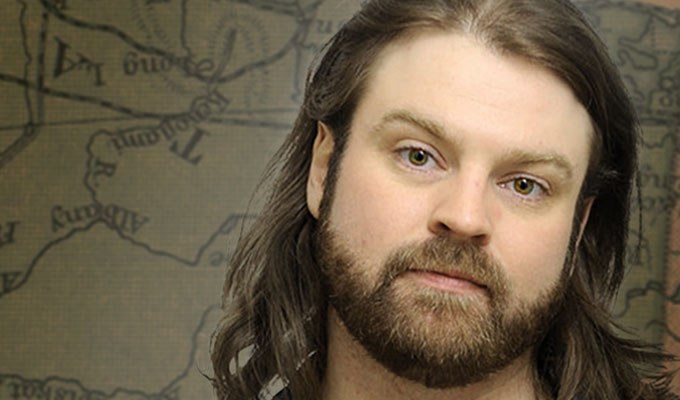 Comedy At The Hippodrome
Note: This review is from 2017
The first comedian to play the London Hippodrome was Charlie Chaplin, who was a youngster in extravagant 1900 circus variety show, headlined by Little Tich and featuring on its packed bill a water spectacle on a flooded, sunken stage, a horse act,  21 lions and 'Lavater Lee and his screamingly funny bucking mule'.
The last comedian to play the London Hippodrome – now a casino but with a classy cabaret venue within – was Glenn Wool, who had to work his Canadian socks off to get a reaction from a largely sluggish crowd last night. How times have changed.
Still, this historic venue retained an element of variety, courtesy of magician Christian Lee, who compered, grabbing the attention from the get-go with a couple of short, impressive and unusual materialisations that kicked the night off with a flourish.
He's a better conjuror than comedian, though. His audience interaction is a little stilted when he's not treating people like stooges, and his sense of humour often dated. He pretends to have stolen the bra from a female volunteer he gets on stage – very 1970s Summertime Special – while there are several corny prop gags – with the props not even essential to his tricks.
Despite his trickery, Lee couldn't energised the room, and even opening act Matt Reed, an experienced compere, struggled to inject much vim thereafter. Maybe everyone had just lost their shirts on the roulette tables downstairs.
Reed is from Sunderland and his cheeky, banter-led shtick very much plays up on regional stereotypes, from party girls on the prowl in Newcastle's Bigg Market to taciturn Londoners (though based on tonight's crowd, he might have a point on that last one) and local accents. But while some of the ideas are pretty standard, Reed has a couple of pleasingly original  and amusing anecdotes, and a smattering of sharp lines, including a particularly memorable one about religion, to spice up the set, that's otherwise built on gregarious likeability.
Howard Read – no relation  – is slightly more standoffish, relying on the audience to note the silliness of his words, which he underplays. Although the presence of his sidekick, the animated six-year-old Little Howard, should make the point more obvious. But again the reception was cool, with the room not apparently sure what to make of the downbeat daftness and childish cartoons on screen.
Read, already the underdog in that double-act relationship, played for pity even more, quietly  mumbling of one computer-generated gag that deserved a better reaction: 'That took quite a lot of effort… but it doesn't matter.' But he was hard done by, as there are plenty of good gags here, usually generated from naive Little Howard exposing his creator's sex secrets or puncturing his ego with the innocence of a idiot savant. 
Headliner Wool put up the fiercest fight against indifference, deploying the full force of the  emphatic  preacher-like delivery  that the shares with illustrious forebears such as George Carlin and Bill Hicks. There's a rock-opera cadence to his voice, the rhythms and emphasis dramatically playing up the emotions of his routines that even this crowd can't ignore.
Material comes from a place of impish iconoclasm - teasing the Bible for only covering Jesus's 'greatest hits' for example, or railing against the sensitivities of the snowflake generation via a story in which his 95-year-old war veteran grandfather well foul of officialdom after calling a carer a 'silly cow'. Added to the mix are personal jokes and anecdotes about him failing to crack America or his relationship with a significantly younger woman, which cement his formidable reputation for both spinning yarns and fashioning gags.  Finally, the tough room was over – but it took a lot of work.
Review date: 19 Jan 2017
Reviewed by: Steve Bennett
Reviewed at: Hippodrome Casino
Recent Reviews
What do you think?