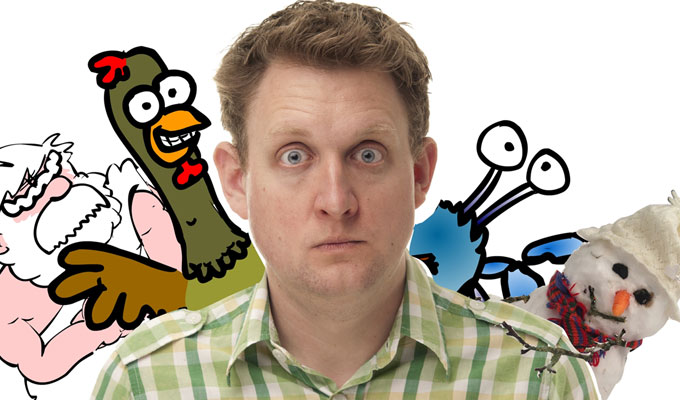 Howard Read: Hide and Speak
Note: This review is from 2013
Ever since Howard Read's first solo show at this festival 11 years ago, we've praised his technical ambition, but usually qualified it because of his problems operating the kit.
Finally, he seems to have cracked the method of delivery, a few minor snafus aside. He can now make his animations move and lip-synch in time with what he is saying, and he's mastered the games controller that guides them. He is genuinely performing live stand-up as a cartoon character, and that's an impressive achievement in anyone's book.
Next, though, he probably needs to apply some of that same ingenuity to a script that's often too cheesy, even given the tongue-in-cheek intent.
There main characters include Little Howard, his six-year-old sidekick, here allowed to swear – or at least sound like he's swearing – because of the grown-up audience. Bt even when working 'blue', the sensibilities and energy of Read's hour are decidedly childish.
There's also a welcome return for Roger, who's both an ideologically dodgy old-school comic from the Seventies and a pigeon; plus the new characters of a blue crab, a monkey, and a chicken. This latter creature might be famous in comedy for crossing the road, but here he spends a lot of time in the gutter. In fact, Read might have spent so long entertaining children that he's rather overestimated the appeal of poo, bum, willy jokes for grown-up audiences.
God is his best creation – if that doesn't sound too blasphemous – allowing Read to add an extra level to his character beyond the puerile. Where the animated animals tend to simplify the jokes, the deity can (but doesn't always) expand on them.
Between these live animations are some fully pre-recorded cartoons, such as warning about some truly abominable snowmen, a chance to shoot David Cameron in the head (actually less fun than it sounds), and a couple of single-frame gags
Read covers the ropier jokes with his easy pub charm and self-effacing comments on the quality of the material, while occasionally cracking out the ukulele for a jaunty number to jolly us along. It all just about holds together – but it really shouldn't be such a close-run thing.
Review date: 9 Aug 2013
Reviewed by: Steve Bennett
Recent Reviews
What do you think?