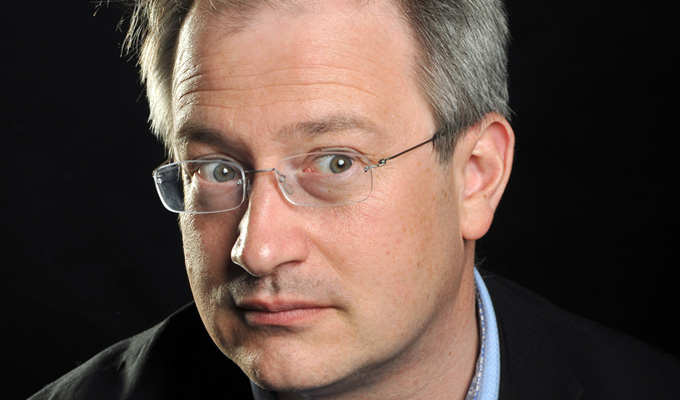 Nine Lessons And Carols For Godless People 2017
Note: This review is from 2017
For a show based upon the rigours of the scientific process, Robin Ince's annual celebration of the curious and the creative has some pretty large margins of error. Nine Lessons And Carols For Godless People? More like 19, by my count of the guests.
It's a reflection of its curator's inquisitive manner that he wants to hear from so many experts, comedians and musicians. And it turns out there are more than enough like-minded souls to fill the audiences for several shows in London's Conway Hall, as well as the bigger Hammersmith Apollo extravaganzas. They are surely middle-class, well-meaning liberal Radio 4 listeners all, and each prepared to put in Ken Dodd-like hours at this gig to sate their interest. Put it this way, the house band is a violinist and a pianist; that's the demographic.
Ince sees these nights as the antidote to the ignorance and unkindness sweeping the world, promoting a broadmindedness and sense of wonder at the planet and the universe, rather than shrinking into a fear and hatred of the unknown. He's surely preaching to the converted, but a pep-talk will do us all good.
We start with a 'join us' plea from Jim Walsh, the chief executive of Conway Hall – the home of the Ethical Society, its apt motto 'to thine own self be true' emblazoned over the stage. Then the first of the scientists in Professor Bruce Hood, an expert in illusions who explained how we are hardwired not to change our mind, even when all evidence is that we are wrong, which explains a lot about the current political climate.
First on the entertainment side was Audrey Heartburn, singing the Soft Cell New Wave classic Say Hello, Wave Goodbye in the style of the Breakfast at Tiffany's star. Her attempts at audience interaction fell on deaf ears initially, given the vibe to this point had been more Royal Institute lecture that louche cabaret show, but her bloody-minded persistence paid off, and she eventually converted us into her type of audience.
Matt Parker, The Festival Of The Spoken Nerd's resident mathematician, spoke about the tessellation of tiles, with a joyous self-deprecation about his own geeky tendencies; radiation scientist turned improviser Richard Vranch was in his, erm, element with a punny faux lecture based largely around the Periodic Table; then Peter Buckley Hill offered a cynical reinterpretation of buskers' classic The Streets Of London as well as further groansome wordplay.
After a too-convoluted introduction, Jim Al-Khalili gave a brief report on the latest thinking that suggest the spooky phenomenon of quantum entanglement could be linked to space-time wormholes – a tantalising possibility that would combine the physics of the subatomic with that of the huge. Lucy Rogers of the Guild Of Makers is clearly an aspiring stand-up, concentrating more on gags about her stint as a Robot Wars judge than on her professional brief… though her inexperience as a comic meant a wooden delivery and a lot of jokes falling awkwardly. Then singer-songwriter Philip Jeays with a downbeat-sounding song with lyrics about optimism, and a jaunty number about depression, the ironist.
Then the interval! Yes, we're still only halfway through.
Ince returned with a new departure for him: poetry, clearly influence by the likes of John Cooper Clark and including a much-needed message about privilege. Then we're off again, kicking off with Simon Singh trying to cover all five of his pop-science books in seven minutes; from Fermat to Futurama to frauds, whether misleading Katie Melua lyrics (this story being his 'Bat Out Of Hell' greatest hit, according to Ince) or unscientific 'medical' practices.
Glacial-paced anti-comedy pioneer Norman Lovett grumbled about the length of his set. 'They've given me seven minutes,' he sighed, summoning his best hangdog expression. 'Even pasta gets ten.' But he used it to great effect, getting laughs just from idling away with a fidget spinner, in defiance of all conventions of showmanship, while other sections, including a return to the hot topic of pasta, feature actual jokes.
Solar physicist Lucie Green told of how the sun looks better in the ultraviolet, but was more excited by her visit to the remains of the Skylab, which crashed to Earth in Western Australia in 1979. Then Simon Watt of the Ugly Animal Preservation Society apologised for not being a stand-up – although his talk about less photogenic endangered species actually had all the wit and passion of the best comics, starting with his blunt assertion: 'I fucking hate pandas!'
Mitch Benn complained about Ed Sheenan's ubiquity in the first of three musical parodies, the others mocking Christmas songs, catchy – and deliberately cliche-ridden – enough to be worthy of the charts themselves. Jon Butterworth offered a map-based analogy as a guide to particle physics, which didn't really shine any light/fire any protons on the subject – for that, he said, you'd have to get his book, available in the foyer.
It wouldn't be Nine Lessons… without an experiment, and tonight's was a culinary one, with George Egg preparing kippers, eggs and croutons using a wallpaper steamer and hot air gun. It's a bit weird and apparently niche, but he has the patter to keep it entertaining.
One can only hope he kept his food away from Steve Backshal, a venom expert, who gave an entertaining and fascinating insight into his often macabre subject, including some wince-inducing anecdotes about experiencing bites and stings himself. 'I can't believe I packed all that into seven minutes,' he said at the end. The thing is he didn't, not by a long chalk, contributing to the traditional massive overrun of these shows.
She Makes War was a bit of a musical oddity, including an avant garde track made from looping her voice and stomping around the auditorium with a bullhorn – the sort of artsiness that would be mocked at many a different sort of comedy gig.
And finally Stewart Lee, with a devastatingly savage take on populist self-harm, with the folly of Brexit and Trump providing rich fodder for the sense of superior liberal elitism he exudes, and indeed shares with this audience. That situation adds an extra self-knowing layer on to the outlandish imagery extreme politics has driven him to, making him playful with the audience while reaffirming their world. A supremely funny set in the face of global bleakness that underscores Lee's position at the top of the comedy tree.
• Nine Lessons And Carols For Godless People is at Conway Hall in Central London again tonight and Friday with different line-ups. If you are going, there will be a collection of items for the Trussell Trust food banks at the show.
Review date: 20 Dec 2017
Reviewed by:
Recent Reviews
What do you think?