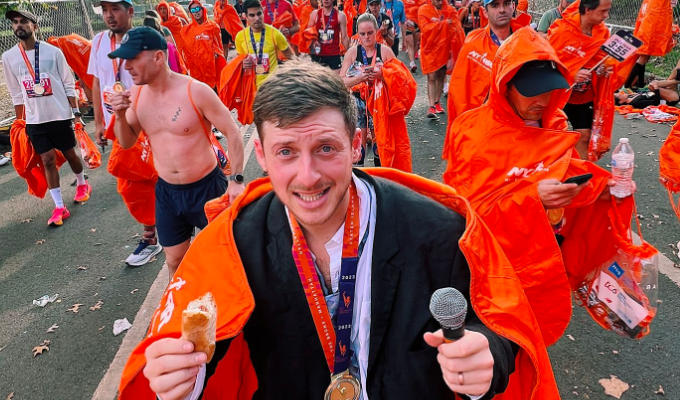 Jack Tucker 'runs' the New York Marathon
Here's the moment comedian Jack Tucker crossed the finishing line of the New York marathon – hot dog in one hand, microphone in the other.
He wore the same suit and loosely fitting tie as he does on stage, and said he completed the 26.2 miles with no more training than googling 'can you run the marathon without any training?' and 'can you die running a marathon?'
Tucker – the alter-ego comic Zack Zucker – crossed the line with his creative partner Dylan Woodley on Sunday, hours before performing his Comedy Standup Hour at the SoHo Playhouse,
He said: 'To be honest I didn't really know what was goin' on. I was told at a young age that if you see a lot of people running in the same direction just put your head down and keep running with them. Don't look back, don't ask questions, just go.
' And it just so happens that I got to run the New York City mayorathon with my best friends Dylan, hot dog and chicken. Anything is possible!'
Woodley added: 'People said it would be impossible to run a marathon without training, but I thought it was actually pretty easy.
'It's more about your mental endurance than anything physical, so to distract myself I spent most of the four hours thinking about my dark past and rotating polygons in my mind.'
The pair claimed a time of 3hours and 47minutes and had that engraved on the official medals they snagged at the finish line.
Dreadful cynics have suggested the achievement may be a prank – pointing out that neither of the comics were wearing official numbers, nor are they listed among the official results of all 51,933 registered runners, but that is surely just jealousy talking.
Zucker added: 'This is by far the greatest accomplishment of my life. To be able to run the world's most iconic race in my hometown, with zero training, on the same night of my off-Broadway debut, alongside my best friend and the beautiful people of New York City… I mean, it doesn't get any better than that.'
Jack will next be back in London hosting the late-night Stamptown comedy gig at the Soho Theatre over eight nights in January.
Published: 9 Nov 2023