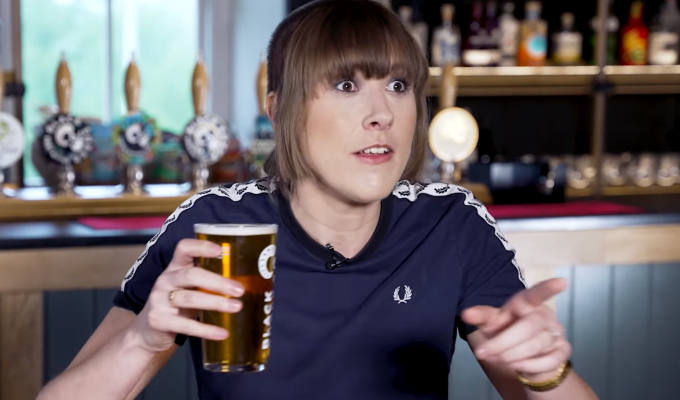 Maisie Adam fronts cask beer campaign
Maisie Adam has signed up to front a campaign to encourage people to drink real ale.
In a new video, the comic hits back at Twitter users who expressed their – usually negative - opinions of the booze.
It is part of the'Drink Cask Beer' campaign run by Yorkshire-based Black Sheep Brewery.
Sales of cask beer have been in steady decline for several years due to changing consumer habits, the growth of other drinks categories, and repeated pub closures during lockdown.
Charlene Lyons, chief executive at Black Sheep Brewery, said: 'Over the years, cask beer has found itself unfairly categorised as a drink for the older generation – and one for men in particular. But this quite simply isn't true!
'We believe the cask category needs genuinely disruptive campaigns like Drink Cask Beer to help the category back into growth. We're so passionate about cask and we're keen to lead the movement and reposition it with new and lapsed drinkers.
'We were keen to tackle the "haters" head on, but in a fun way. And we felt Maisie was the perfect partner to help us do this – she's an amazing comedian, down-to-earth and best of all – from Yorkshire.'
"It was an absolute joy - and a great laugh - to welcome Maisie to the brewery to fight back at some of cask beer's biggest online trolls. In Maisie's own words – "look, just drink cask beer! It'll change your life".'
<iframe width="560" height="315" src="https://www.youtube.com/embed/ocs4xUPj2BI" title="YouTube video player" frameborder="0" allow="accelerometer; autoplay; clipboard-write; encrypted-media; gyroscope; picture-in-picture" allowfullscreen></iframe>
Published: 27 Jun 2022
Recent Punching Up
What do you think?