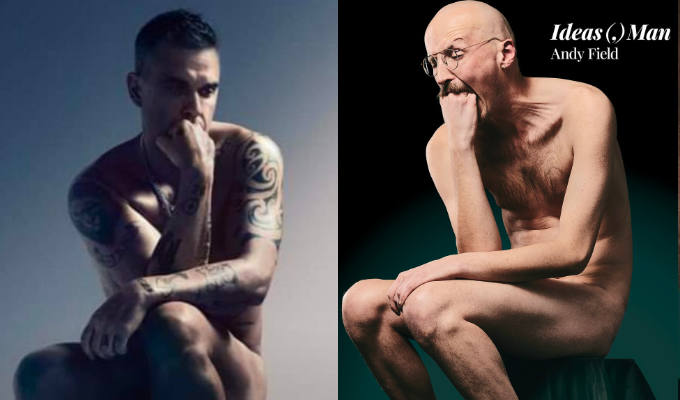 Let me plagiarise you...
Comedian Andy Field has jokingly said that Robbie Williams 'will be hearing from my lawyers' after unveiling a tour poster very similar to his own.
Both feature their subjects naked, sitting on a plinth with their fist in their mouth, their other arm draped over their knee.
Williams's promotes his new tour XXV, tickets for which go on sale today, while Field's is for his Edinburgh Fringe show Ideas (,) Man at Assembly .
When he revealed his poster, the comic said: 'Super pleased. I had a vision, I shared that vision with several people, no one stopped me, and here we are. A beautiful moment.'
The publicity also features what's likely to be one of the best quote lines of the festival, courtesy of, well, Chortle: 'One story about shitting himself is hilarious, two looks like he's got a problem.'
Published: 17 Jun 2022
Recent Punching Up
What do you think?