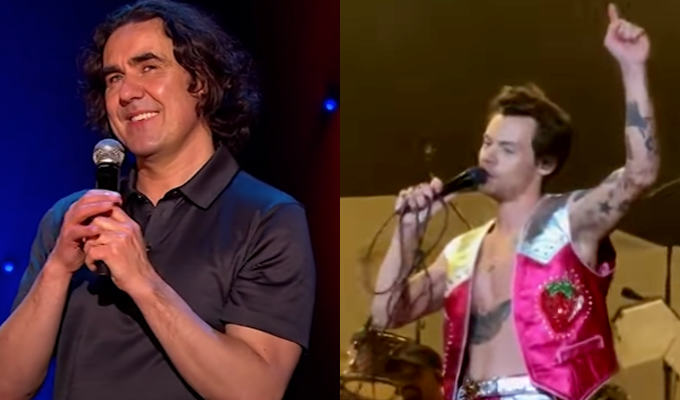 'I've got the flavour, the dreaded flavour!'
Micky Flanagan may be pushing 60, but he's still got it when it comes influencing a younger generation of pop stars.
Harry Styles channeled this spirit of the Cockney comedian on stage at Coachella last week – much to the confusion of the musician's American fans.
'I'm in a fantastic mood,' the former One Direction star told the festival in the Colorado desert. 'And I've got the flavour, the dreaded flavour!'
The line originates in one of Flanagan's routines about getting dragged into a drinking session when a night out went out of control. But not that everyone got the reference:
Can someone explain to me what the "dreaded flavour" is? I am still confused

— Doro (Harry's House)🤍 (@justalittlenyc) April 23, 2022
what did he mean by the dreaded flavour it's genuinely keeping me up

— ry (@hrrysmelomania) April 23, 2022
are we all just pretending we knew what harry meant when he said he has the flavor the dreaded flavor

— kiz's house (@sweeetcreature) April 23, 2022
No but I'm still confused by the "I've got the flavor, THE DREADED FLAVOR" like wtf was that

— madi ²⁸ saw louis pomegranatrry is mine (@JUSTLIKEYOUFTDT) April 23, 2022
However, judging by comments on YouTube, Styles's proclamation drew some of his fans to Flanagan's work.
So who told it best, Harry Styles or Micky Flanagan
Published: 25 Apr 2022
Recent Punching Up
What do you think?