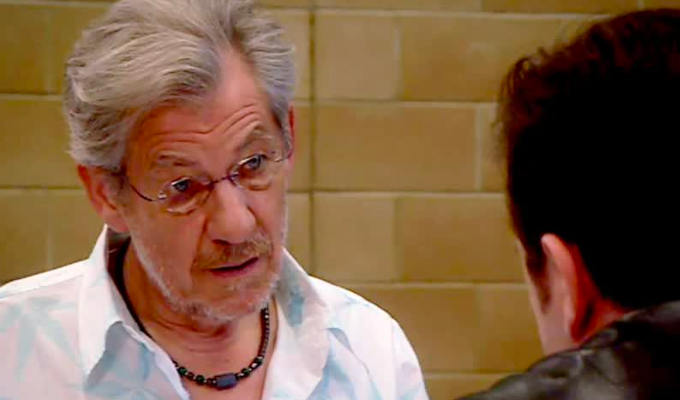 Sir Ian McKellen: I watch my episode of Extras to cheer myself up
Sir Ian McKellen says that whenever he needs cheering up, he watches himself in Extras.
The 82-year-old actor played a parody of himself as a serious actor in Ricky Gervais and Stephen Merchant's comedy.
Speaking on the Graham Norton show tonight, Sir Ian says: ' It is one of the best scripts I have ever had to learn and perform – the laughs fall out of you because of the way it was written. When I watch it, I laugh my head off!'
Merchant is also on the BBC One talk show tonight, promoting his new series The Outlaws, and interjected: 'It was one of my proudest moments. It was the first time I had worked with an actor of Ian's calibre – it was a joy.'
Merchant also described his role in his own show, which launches at 9pm on Monday: 'I really stretched myself. I play an awkward middle-aged gangly nerd – you may as well get Bafta on the phone now because it is quite a performance!'
Sir Ian was on Norton' show – which airs at 10.35pm tonight – to promote his role in The Cherry Orchard at the Theatre Royal, Windsor.
Published: 22 Oct 2021
Recent Punching Up
What do you think?