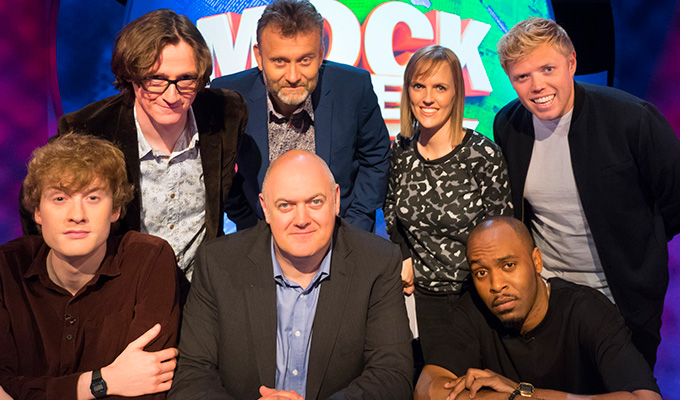 Dara O Briain: I almost quit the Mock The Week
Dara O Briain has revealed that he once got so frustrated with Mock The Week that he considered quitting.
The comic confessed that he even jotted down an alternative career path while in the chair recording an episode, asking himself: 'Do I need this?'
He said the competitive nature of regulars such as Frankie Boyle sometimes made him feel like a 'traffic cop' – but that a more relaxed generation of newer comedians as brought more fun to the job.
O Briain's comments came to food writer Jay Rayner on his Out To Lunch podcast, released today.
He said: There were many years of Mock the Week that were actually not that fun in some ways. There were very strong personalities who were very staccato.
'Frankie Boyle and Russell Howard in particular were very, very good at what they do. Frankie in particular had a tendency to kill a topic by bringing it to a brutal end, which people loved, absolutely adored, but it made it more difficult to engender any conversation.
'Certainly were years where I was all I was doing was traffic cop. Because there are seven people talking and it wasn't a chance for me to make up stuff and mess around. There were years where it wasn't as much fun as it could have been.
'Genuinely, I remember sitting down once while one of the rounds was on and with a piece of paper, cause I have nothing to do at that point, writing out the next four years of my career. Going, "Do I need to tour? Do I need this?"'
But he decided to stay with the show, which slowly changed into something more enjoyable.
'I stuck with it during bits where it didn't particularly flatter me. And then it sort of evolved with this generation to a much more conversational show.
'But it retains a surprising amount of baggage. Either, but in those who think it was a really savage show that was incredibly unfriendly to younger comics coming through. Didn't feature anywhere near enough women or minorities or whatever and I totally agree. It absolutely was.
'There are, conversely, also those who think it's not as good as it used to be because it used to be really savage
'The only benchmark I can bring to it is that I enjoy significantly more now than I ever did. Partly because this generation I work with are much more conversational, much more collaborative generations. '
O Briain also said the host's job suited him best. 'I would never guest on this show, it's a terrible show to do,' he said. 'It's not a show that you can just drop in and talk a bit of shite on. We all love those shows and we also have to be able to do those shows. But it's not one of those, unfortunately.
'So we get people for about two, three years generally. So we won't see Romesh again. We won't see Katherine Ryan again, we won't see Sara Pascoe again. We will probably not see James Acaster again.
'Even of that generation, people pass who become too big for us. And it's like, okay, fine.'
During the interview, O Brain also challenged the tears-of-a-clown, comedy-as-therapy view of stand-up, describing himself as 'quite content, quite centered emotionally. It's not coming from a place of that I have sadness'.
Of the wider scene, he said: 'There is no higher rate of depression in comedy than any other industry. Certainly in the performance industry. I think in some countries, America, kind of really idolizes the notion of it being really dark. And you come from a very dark place or whatever. That's not necessary. '
He said most comedians are 'perfectly fine people, lovely company, great to hang out with, very nice people to work with'.
Published: 24 Nov 2020
Recent Punching Up
What do you think?