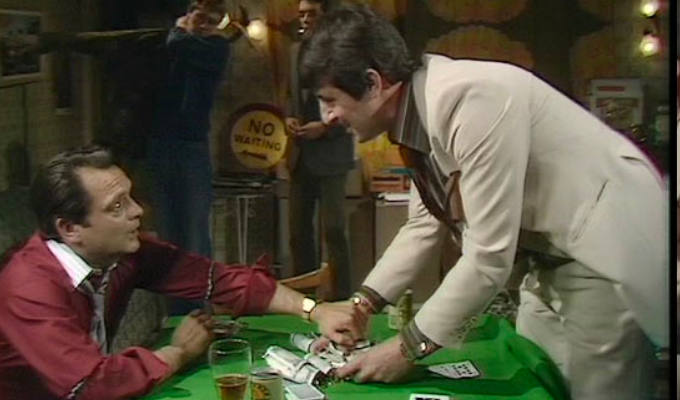 Boycie flogs a hooky poker set
Only Fools And Horses star John Challis is flogging a hooky set of poker cards, with four extra kings in the pack.
The crooked game will enable sitcom fans – or outright cheats - to recreate a classic scene from the show when his character Boyce tries to pull a fast one agains Del Boy.
In the 1982 episode A Losing Streak, the second-hand car dealer swaps his cards for two kings he has stashed in his suit, making a hand with four kings.
But Del, played by David Jason, beats him at his own game, revealing 'two pairs' - which turns out to be four aces.
As Boycie reluctantly concedes the game, he hisses: 'Nicely played. Where d'you get those our bloody aces from?'
Del replies: 'Same place you got them KINGS! I knew you were cheating, Boycie.
'Oh yeah, how?'
'Cos that wasn't the hand I dealt you…'
Now Challis has lent his likeness to the poker set, which includes chips and a 'digitally signed' photo, and is being sold as a Christmas gift for £14.99 here.
The 77-year-old actor has also made a documentary, Boycie In Belgrade, a travelogue in which he investigates why Only Fools And Horses is so popular in Serbia.
He visits sights such as Royal Palace and a brandy distillery, as well as a university teaching cockney rhyming slang.
The documentary is being released as a DVD on September 2, also priced £14.99 and available here.
Published: 4 Aug 2020
Recent Punching Up
What do you think?