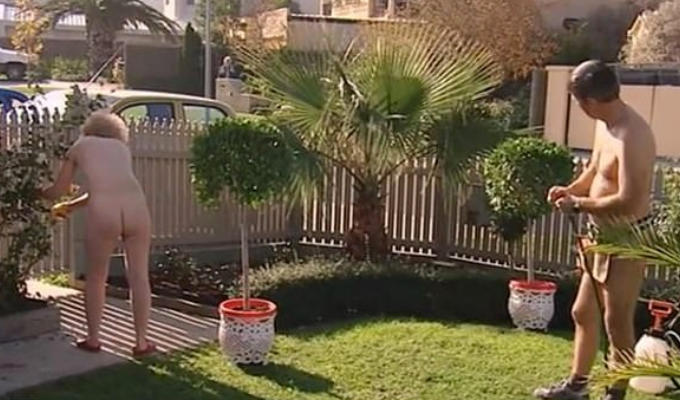 'I had my dick in a pouch - pure humiliation'
Actresses having to take their kit off while their male co-stars remain fully clothed is one of the most enduring sexist tropes in the media.
But on the set of the female-led Australia comedy Kath and Kim the roles were reversed, one of its co-stars has revealed.
Peter Rowsthorn, who played Kim's husband Brett on the hit series, revealed that while there were several nude scenes int he sitcom, only he and male co-star Glenn Robbins who played Kath's 'great hunk o'spunk' Kel, really bared their butts.
Referring to series creators and stars Jane Turner and Gina Riley, Rowsthorn said: 'Glenn and I used our natural arses but they) used "stunt bums".
'Glenn will get his arse out for anything, he loves getting his arse out.
'We both had to have our penises and testicles put inside a pouch which was stuck to our bodies. I remember I had to do a scene where I was coming in the back door nude.
'There was a little bridge nearby and a crowd gathered and could see in the backyard as I was standing nude with my dick and balls in a pouch and they were cheering. There was no sheet to cover me, nothing – just humiliation.'
In the interview with Australia's news.com, the actor also revealed that more than one pooch played the dog Cujo, how he cleaned up doing corporate gigs that no other cast member would touch, and how he has lost $50,000 (£26,000) worth of work because of the pandemic.
•Kath and Kim is available now on Netflix.
Published: 13 May 2020
Recent Punching Up
What do you think?