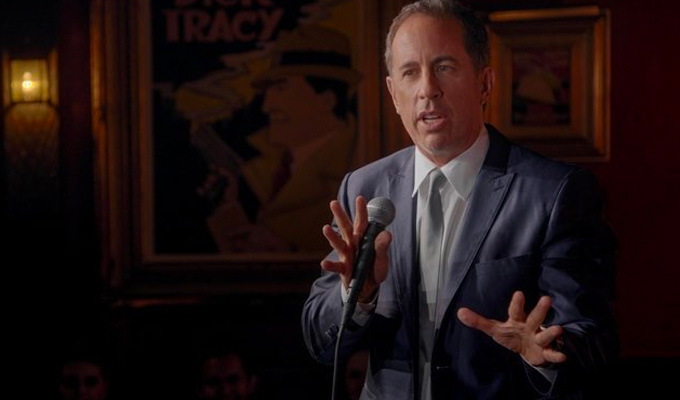 Jerry Seinfeld performs a secret London gig
Received wisdom is that a audience of envious comedians and jaded industry folk is one of the least receptive a stand-up could ever face.
But when you're Jerry Seinfeld, the normal rules do not apply.
The American comic legend earned a standing ovation after performing more than an hour of precision-engineered observational material at a secret, intimate gig in London's Soho Theatre late last night.
Dara O Briain, Kevin Bridges, Micky Flanagan and Roisin Conaty were among the star-studded, audience, specially invited to help Seinfeld hone his material for British ears ahead of his Hammersmith Apollo shows tonight and tomorrow.
The comic made plenty of jokes about playing a free gig in front of 150 people in a stifling hot venue. And he acknowledged the fact that we all knew his history – and his wealth – meant that at this moment he could have chosen to be anywhere in the world, doing anything. Yet he is happiest on stage, revelling in the interaction of a live stand-up show.
Road-testing his material, he sounded the audience out about certain terminology, introducing us to the concept of Swanson Hungry Man frozen meals, while being astounded that Britons did not really have a special word for the 'mini-marts' next to petrol stations.
In a mix of new material and routines he's been performing on the road for a year or two, Seinfeld joked about quirks of language, the effort it takes to leave the house, modern obsession with 'hydration' – all with his trademark nasal timbre and elongated vowels of strained incredulity.
But never mind the material, the fiercest topic of conversation in the bar afterwards was disbelief that Seinfeld was 65 years old, given how well-preserved he looked. What's the deal with that?
At the end, he invited questions from the audience - prompting a cheeky query from comic Rachel Fairburn about whether he was happy with the much-maligned final episode of his eponymous sitcom (he was, seeing it more as a reunion than a traditional episode). And asked to name his favourite comics, he cited Ricky Gervais – with whom he'd spent the afternoon recording a podcast.
Another audience member asked about changing tastes in comedy, presumably hoping to reopen the controversy of when Seinfeld said he now found it hard to play colleges as students were too keen to take offence. But instead the comic said he was quite at home with shifts on what was acceptable – saying a comedian's job was to be like a surfer, staying ahead of culture trends.
That prompted another question from agent Debi Allen, asking how he could remain relevant given his rarefied life. Referring back to an earlier routine, she asked: 'When did you last take an Uber?' – prompting the response from the avid car-collector that he'd taken a couple, giving enough information to go on.
Others in the audience included Kiri Pritchard-McLean, Desiree Burch, John Kearns, Jen Brister, Tiff Stevenson and Adam Hess.
Chortle was sworn to secrecy when it came to reviewing the gig – but here's our write-up from last time we saw him – in the slightly less intimate setting of a 20,000-seat arena.
Published: 12 Jul 2019
What do you think?