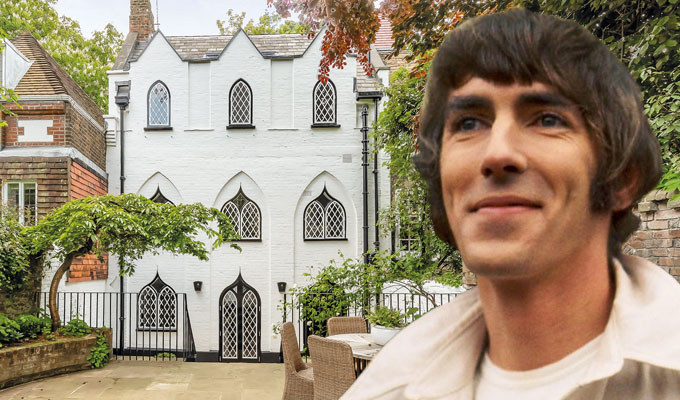 For sale: Peter Cook's London house
The London home where Peter Cook lived for the last 20 years of his life has been put on the market for £5million.
In the heart of Hampstead Village, the four-bedroomed house was once the scene of wild parties where guests included the Pythons, Stephen Fry, Julian Clary and the Rolling Stones.
One story has it that Cook greeted guests at one soiree dripping wet – explaining that he had just jumped into the koi carp pond after setting his trousers on fire while lighting candles.
Cook brought the Queen Anne style house – designed by Edwin Lutyens' protege, the delightfully named Norman Evill – in 1974.
His second wife, Judy, likened it to a 'small enchanted castle' and Cook wrote at the time: 'I'm pleased and excited by it. I hope I never had to move again.' And he didn't, remaining there until his death in January 1995, at the age of 57.
It was in this house that he wrote sketches with Dudley Moore, and where his diminutive friend told Cook he wanted to end their fractious partnership; where his second wife Judy crawled into a suitcase to catch her philandering husband in flagrante; and where he lived out many of his years in what his biography called 'a shambolic bachelor life' knocking back the booze.
After the collapse of his second marriage, he started a relationship with Lin Chong, who lived nearby. But she took one look at the shambolic state of his house, with graffiti on the walls and paperwork piled everywhere, and decided they should maintain two homes.
However shabby it was inside, its exterior remained enchanting. Lin, who would become Cook's third wife, wrote in her memoirs: 'Peter's home was his castle. A spacious Grade II listed house on three-and-a-bit floors with a large beautiful garden hidden from public view.
'Looking at it from the front, the architecture appears Queen Anne. From the rear, it is undoubtedly Victorian with picturesque, leaded, inverted strawberry windows. Anyone who saw it from the garden, would be reminded of fairy tales. It looked that enchanting.'
When Cook died from a gastrointestinal haemorrhage, Lin finally moved into Perrin's Walk — and couldn't bear to change a thing.
In 2016, Victor Lewis Smith was granted access to the property and made a BBC Four documentary about the untouched treasure trove of archive material he found.
After Lin died that year, her brother Chiew Chong, who is executor of her estate, arranged for a complete revamp of the home's interior, and now there is no sign of the chaos that once lay within. The Heath & Hampstead Society has even said they will unveil a commemorative plaque on the building, giving it the ultimate seal of respectability in this well-to-do enclave of North London.
James Morton of estate agent Dexters, who is handling the sale said: 'We are anticipating a lot of interest in this fascinating house due to its enviable location… and the added cachet of the Peter Cook connection.'
You can take a virtual snoop around the property on Zoopla.
Published: 11 Jun 2019
Recent Punching Up
What do you think?