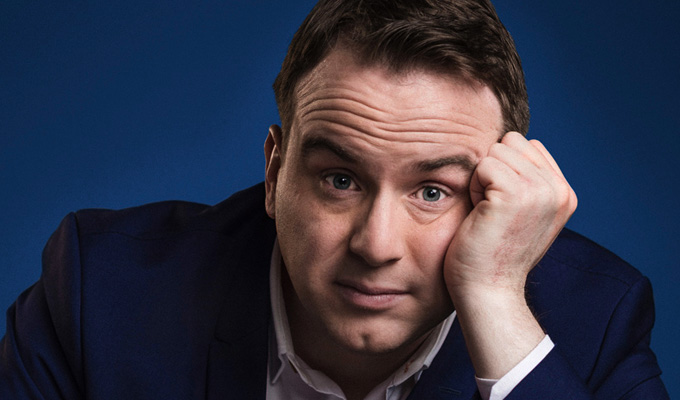 Matt Forde's weirdest day
Getting mentioned in Parliament should be the most surprising incident of your day.
But for Matt Forde, it was the culmination of the weirdest day of his life.
After the comic accused Facebook of censorship for refusing adverts for his show Brexit Through The Gift Shop as it was considered a political message, Labour's Kevin Brennan raised the matter in the House of Commons.
The Cardiff West MP – who is part of MP4, the politicians' rock group that are the house band on Forde's Comedy Central show Unsupun – asked on Wednesday if Facebook 'shouldn't be more concerned about blocking fake news, Russian bots and undermining our democracy? Rather than being a slave to an algorithm that can't recognise a simple joke?'
Shouldn't Facebook be more concerned about blocking harmful images, fake news and Russian bots than banning ads for @mattforde's 'Brexit through the gift shop' show? It's become a slave to an algorithm which can't recognise jokes. pic.twitter.com/UeRllH8Vas

— Kevin Brennan MP (@KevinBrennanMP) February 8, 2019
However, Forde has revealed that earlier in the day, he was told he was a carrier of the hospital superbug MRSA. Although it didn't make him ill, he said it was 'like being told I'd got ebola. On my face!' he explained to listeners on his radio show Rock 'N' Roll Football on Saturday.
Then things took a turn for the completely bizarre. Walking home from the pharmacy with his skin medicine, chatting on his phone, he recalled 'this guy walks past me in the street and spits at me full in the face …
'And he had wild eyes. I turned round and this guy drops his bag and just comes for me, like out of nowhere. And his eyes are wild, angry, and he just legs it towards me. I immediately leg it. I'm running down this main road shouting, "Help! Help! Stop him!". I'm just thinking in the back of my head, "I'm dead, I'm gonna die! ..."
'Anyway, he grabs the medicine off me, throws it into the traffic. That makes him chase me again. And I'm a heavy lad, I'm not light on my feet.'
Fortunately, a bus driver spotted the comedian's plight, got him on board and locked the door, before flagging down a passing police car. A firearms unit then stopped his would-be assailant and handcuffed him.
'Obviously my heart's going mad, my adrenaline's going insane' Forde told his co-host Matt Dyson. It transpired that the man, who was from Finland and probably had mental health issues, thought the comic had been 'slagging him off'.
Returning, shaken, to his walk home, Forde started receiving texts saying 'You've just been mentioned in Parliament.
'And I was thinking, "Well, this escalated very quickly. The police have only just got involved and now it's the Ministers."'
Published: 11 Feb 2019
What do you think?