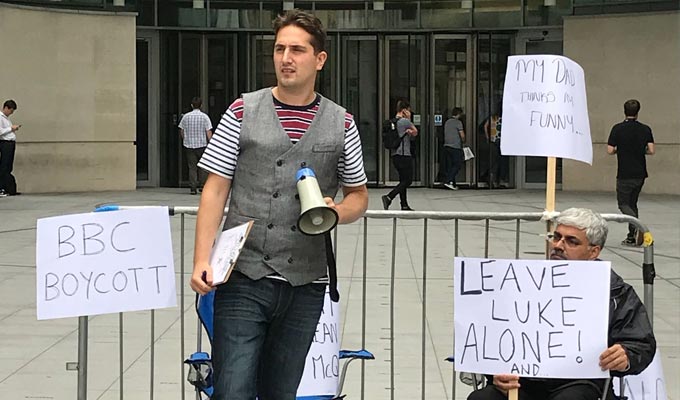 Comedian protests about his own BBC show
Comedian Luke McQueen has been staging a series of fake protests in London and Edinburgh, urging people not to watch his forthcoming BBC Three show.
He set up a tent outside Broadcasting House urging the viewers to boycott the corporation, saying he was not leaving until the BBC agreed not to not air the series.
McQueen even accosted Radio 2's Jeremy Vine and asked him to sign a petition calling for The Luke McQueen Pilots to be blocked. 'I tried to make something good, it didn't work out. Now I'm being publicly shamed by the BBC,' the comic said.
In the BBC Three series, due to drop on iPlayer next month, McQueen tries his hand at investigative documentary, comedy travelogue and a reality dating format, none of which quite work out.. Fellow comic Mark Silcox also took part in the Broadcasting House protest, posing as McQueen's dad.
Dad and me outside the BBC right now with a clear message. We're not leaving until they agree to not air the series. Dad's got a tent with him and he's not afraid to use it. Ban #thelukemcqueenpilots @marksilcox pic.twitter.com/NjNXiKBLn5

— Luke McQueen (@MrLukeMcQueen) August 15, 2018
Dad setting up the tent. Looks like we're staying for the night. Who's joining us? Occupy the BBC. I just chanted "We shall not be moved... until the series is removed!" It was really good. Ban #thelukemcqueenpilots pic.twitter.com/iyDZGSsmFn

— Luke McQueen (@MrLukeMcQueen) August 15, 2018
McQueen then went to Edinburgh where he held up his protest messages outside Register House, but appeared to be overwhelmed by a socialist rally:
Update: Back in Edinburgh but the protest has continued. Overwhelming to see so many of the Scottish people supporting my cause. BBC boycott. Ban #thelukemcqueenpilots pic.twitter.com/x5DOjudDSX

— Luke McQueen (@MrLukeMcQueen) August 17, 2018
Published: 20 Aug 2018
Recent Punching Up
What do you think?