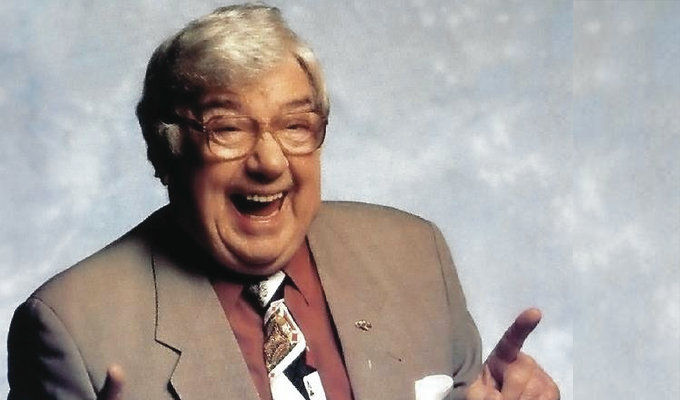 'Frank Carson once asked me for change'
Twitter has been awash with people sharing their mundane celebrity encounters this week... and it's quite a joy.
The conversation started when someone called Huw asked people to share their trivial anecdotes:
What's your most mundane celebrity encounter?

— Huw (@ed_son) 25 June 2018
Here are some of our favourites from the comedy world:
A drunk I stopped falling in the road in Edinburgh insisted on introducing me to Jasper Carrot saying repeatedly, 'Jasper, this man just saved my life.' I was mortified. And it was Frank Skinner. https://t.co/xpJMMTAXIX

— Peter Graystone (@PeterGraystone) 25 June 2018
I saw Rik Mayall in the street in Shepherd's Bush in 1987.
I said 'hello'.
He said 'hello'. https://t.co/QFwDGGs2fp

— Lev Parikian (@LevParikian) 26 June 2018
Jennifer Saunders almost ran me over at the petrol station at Leigh Delemare Services.

— Tony Darwall (@TonyDarwall) 25 June 2018
Peter Kay's son was in my son's swimming lesson. He turned up once. I open the door for him. He said 'thanks'. Story ends.

— Matt Harding (@mattharding007) 25 June 2018
When I worked at Waitrose I dropped and smashed a massive container of olive oil and Rory McGrath walked by and said "ohhhh dear" https://t.co/6tD4v9GdqO

— P.S.Burton (@PSBurton) 25 June 2018
Sid Little once served me a cheeseburger in Fleetwood

— Curtis Snowman (@Pazza7) 26 June 2018
I was Tommy Cooper's paperboy.

— Martin R Polley (@HistoryMartin) 25 June 2018
Frank 'it's the way I tell 'em' Carson once asked me if I had 10p for the phone at Michaelwood services. I only had a 20p piece so he asked someone else. https://t.co/MrpgxEh148

— Huw (@ed_son) 25 June 2018
Eating in a hotel restaurant somewhere up Shepherds Bush, Mickey Flanagan came in, looked around and left again. https://t.co/bxo7FazEMZ

— Dan (@JeSuisUnDan) 25 June 2018
I sold a Philips CD-i and its entire back catalogue of software to Jim Davidson. https://t.co/QV8dLvKR74

— Phillip (@PhiIIipBlackman) 25 June 2018
I was stopped to let Micky Flanagan through on a single carriageway despite it being my right of way and he didn't thank me.

— Ben Williams-Butt (@benwilliamsbutt) 25 June 2018
And a couple from comics...
I developed Lance Percival's holiday snaps. https://t.co/s1lhYCHEWL

— Bethany Black (@BeffernieBlack) 26 June 2018
I had to find a pair of Timberland boots for Tara Reid when I worked in the store in Covent Garden. She was really rude.

— Tiernan Douieb (@TiernanDouieb) 26 June 2018
And a winner?
I just saw my reflection in a van window.

— Rufus Hound 🌨 (@RufusHound) 25 June 2018
Published: 28 Jun 2018
What do you think?