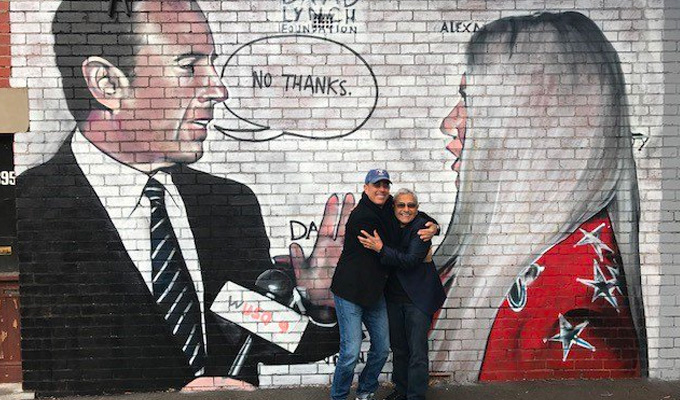 See, Jerry Seinfeld CAN hug
Jerry Seinfeld has visited the mural depicting his famous rejection of Kesha's offer of a hug.
And what's more, he's shared a picture of him embracing manager George Shapiro – despite his avowed dislike of such contact.
In June when the singer interrupted the comedian during a red-carpet interview to ask for a hug – only to be met with an unequivocal 'no thanks.'
A street artist called Lush has captured the moment in the Melbourne suburb of Fitzroy – and Seinfeld paid it a visit yesterday, then tweeted about it:
Me and my Manager of three decades, @georgeshapiro enjoying
Melbourne. pic.twitter.com/nqz1Vy0rqe

— Jerry Seinfeld (@JerrySeinfeld) August 8, 2017
And here's the moment that inspired it all:
Kesha should have known better, since Seinfeld's sitcom was famously written to the motto 'no hugging, no learning' – avoiding sentimentality in the scripts.
Published: 9 Aug 2017
Recent Punching Up
What do you think?