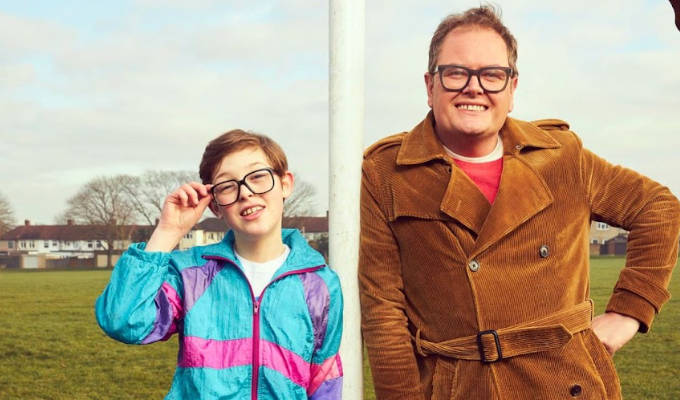 Second series for Alan Carr's Changing Ends
ITV has ordered a second series of Alan Carr's autobiographical comedy Changing Ends.
The broadcaster as also announced that the first series, which originally launched on its ITVX streaming service, will air on ITV1 in the spring.
Those initial six episodes – based on Carr's experiences of growing up n Northampton in the 1980s as the son of a fourth division football manager – have attracted more viewers than any other comedy on ITV.
Reacting to the news, Carr said: 'Looks like we're heading back to Northampton! Absolutely buzzing that Changing Ends is back for a second series firstly because who doesn't love a recommission but secondly on a completely selfish level I have so many more stories from my teenage years growing up in Northampton to tell, about me, my family, my neighbours and believe it or not football! Shocker!'
Filming will start on six new episodes early next year, with the series – made by Baby Cow Productions – expected to drop on ITVX in the summer.
Baby Cow's creative director Steve Coogan said: 'Alan Carr, brilliant and beloved as a comedian, broadcaster and writer, has made the move into sitcom-making look effortless. As thrilled as I am that Baby Cow are getting to make a second series of Changing Ends (very funny/moving, audiences are bound to love the next chapter) I do hope he has to break a sweat this time.'
The show was co-created by Carr and Simon Carlyle, the writer of Two Doors Down who died last summer at the age of 48.
Producer Mollie Freedman Berthoud said: 'Bringing Alan Carr's life to the screen with the most wonderful cast and crew has been so rewarding and fulfilling, so to be given a second series of Changing Ends is a dream come true.
'However, we are heartbroken to now have to take these steps without the magnificent Simon Carlyle. We miss him and his infectious laughter so much, but we feel honoured to be continuing the beautiful show he co-created.'
ITV's head of comedy, Nana Hughes, added: 'The love for Changing Ends on ITVX has blown us away, Alan and Simon, the cast and crew created a brilliant series 1 and it's so good to see viewers are really enjoying this new comedy. '
Read our four-star review of the first episode here.
Changing Ends production credits
Made by: Baby Cow Productions
Written by: Alan Carr
Created by: Alan Carr and Simon Carlyle
Director: Dave Lambert
Producer: Mollie Freedman-Berthoud
Executive producers: Sarah Monteith, Rupert Majendie, Alan Carr and Danny Julian
Thanks for reading. If you find Chortle's coverage of the comedy scene useful or interesting, please consider supporting us with a monthly or one-off ko-fi donation.
Any money you contribute will directly fund more reviews, interviews and features – the sort of in-depth coverage that is increasingly difficult to fund from ever-squeezed advertising income, but which we think the UK's vibrant comedy scene deserves.
Published: 17 Nov 2023