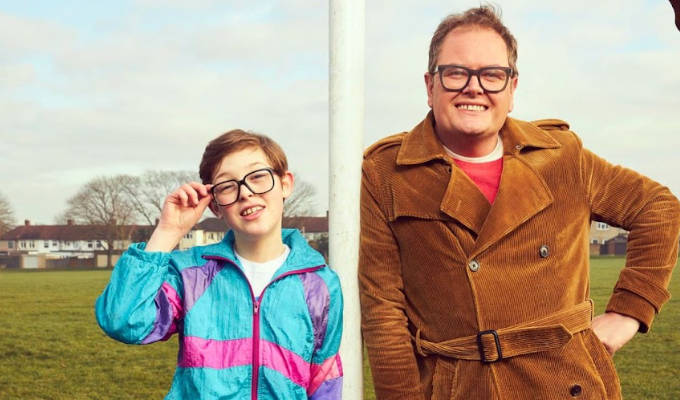 Changing Ends
Changing Ends beams with warmth despite – or more likely because of – the endemic 1980s homophobia which forms its backdrop. Dropped into this world, like a naive alien, is a camp, buck-toothed, socially awkward child, misunderstood by almost everyone and ostracised by most of them.
Fortunately, we know there's a happy ending since that maladroit outsider grew up to be Alan Carr. Since he now identifies as a national treasure, every one of those quirks that made him so different has been converted into a career asset.
His new autobiographical comedy, which the comedian co-wrote with Two Doors Down's Simon Carlyle, plays every idiosyncrasy for laughs, though one suspects the reality might not have been so rosy. In the series, the adult Carr frequently appears to offer perspective – and many a waspish comment – as a reassurance that everything worked out in the end, echoing the narrative device previously used by the likes of The Wonder Years, Everybody Hates Chris and Liam Williams' Ladhood.
Carr is not the star of the show, however. Oliver Savell is. The engaging actor who plays the young Carr has captured his every odd mannerism – the way he runs, to use the word loosely, is hilarious in itself – while exuding the perfect mix of self-confidence and vulnerability that makes the hugely empathetic character work. The young Alan is happy enough in his world but also wants to fit in – even though he doesn't know how, and frankly never will.
That's represented in the opening scene when he calls round to call on his friend Charlie (Rourke Mooney) – only for his mother (a wonderfully spiteful Gabby Best) to send him away, clearly afraid that Alan's probable homosexuality might somehow infect her son.
Alan has an ally in his sympathetic mum Christine (Nancy Sullivan), while his dad Graham (Shaun Dooley) is bemused. As manager of 4th Division Northampton Town FC, as Carr's real father was, he comes from a world where masculinity is clearly and very narrowly defined. Young Alan tries to muster some enthusiasm for football, thinking it might help him become a 'real boy' and find acceptance… though, of course, it is all in vain, given his abject terror of coming anywhere near the ball.
'Keep it light' is the watchword, and every scene is played for laughs, with young Alan living his best life, regardless of the bigotry he's more confused than hurt by. He knows he's not normal – however that is defined – but somehow accepts with a wisdom beyond his years that that's everyone else's problem, not his own.
Likewise, the adult Carr has injected a good level of self-deprecating wit that takes ownership of all his peculiarities, admitting, for example, to 'the eyesight of a mole and the voice of an elderly lady'.
Meanwhile, director Dave Lambert and his team have perfectly evoked the atmosphere of lower-middle-class suburbia, right down to the plastic pop-up personal phone directory or the artwork of a sailing ship made from string and nails. And there's a cracking soundtrack playing unobtrusively beneath all this.
All of which means Changing End has made a clear success of turning 1980s bigotry into a funny, feelgood half-hour. And it will make a star of young Savell, more than likely.
• All six episodes of Changing Ends are streaming on ITVX from today.
Thanks for reading. If you find Chortle's coverage of the comedy scene useful or interesting, please consider supporting us with a monthly or one-off ko-fi donation.
Any money you contribute will directly fund more reviews, interviews and features – the sort of in-depth coverage that is increasingly difficult to fund from ever-squeezed advertising income, but which we think the UK's vibrant comedy scene deserves.
Review date: 1 Jun 2023
Reviewed by: Steve Bennett