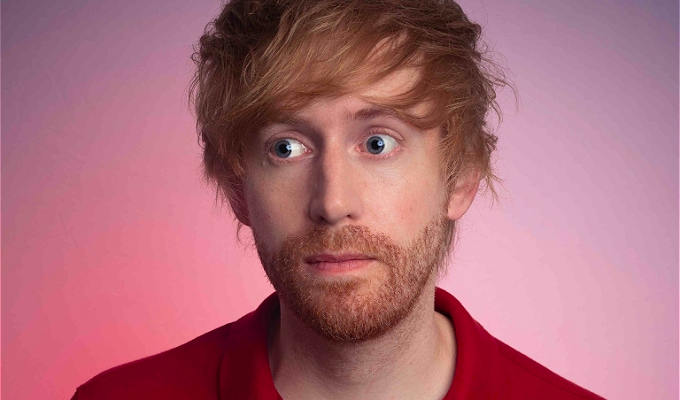 Mark Simmons named Comics' Comic
Mark Simmons has been voted this year's comics' comic.
And in other categories of the award, voted for by jobbing stand-ups, Cerys Nelmes was named best MC, Stephen Grant was named best independent promoter and Pete Grahame of Downstairs at the King's Head was honoured for outstanding achievement to UK comedy.
Pun-slinger Simmons said: 'Wow, thank you so much, this is very unexpected and I'm so so chuffed. Comedians are my favourite people so to be voted for by them is incredible.
'Being up there alongside the amazing previous winners, many of which, I've looked up to since starting comedy, makes me very happy. I bloody love stand-up.'
He follows in the footsteps of Jo Caulfield, Ninia Benjamin and Mark Nelson – who shared the 2021 award in a three-way tie.
Of her best compere award, Nelmes said: 'It's about fucking time! Seriously though, I love MC'ing and making the night playable for all the fantastic comedians I work with. Long may I deliver!
Grant runs the Forge comedy club in Brighton, which he set up after parting ways with the Komedia – where he was also the regular MC – last January.
He said: 'Absolutely made up to have won this award and honoured to be recognised like this - breathtaking when you consider how good everyone else is out there.
'Personally, last year has been the toughest of my life, as professionally I felt shattered, spending large parts of it wondering if I had the tools to build something from scratch anywhere near as good as what was lost.
'No exaggeration to say the only reason I could do this was the people I work with - especially Lucy MacDonald, who is thoroughly deserving of this award also, and critically the incredible support of the industry itself, who have made The Forge something really quite spectacular indeed. So in many ways, you were all voting for yourselves, you egotistical tossers.'
Grahame said of his outstanding achievement award: 'Wow – what a surprise and honour to have been awarded this accolade – especially as it comes from colleagues in the business. I have never liked comedians, and barely tolerate them for the three hours I see them at my gigs, so, more fool them.
'Huw Thomas and I started occasional comedy gigs Downstairs at the King's Head [in Crouch End, North London] in October 1981 and built to regular performances from around 1983, so this is sort of our 40th year.
'The intention was to create a room that nurtured and encouraged the new, the odd and the mad in a welcoming environment. With the exception of my perma-misery, the club still has the same ethos and we are particularly proud that our Thursday Try Out nights (since 1986) have been the bridge to paid work for many professional performers.'
The awards have been administered by Andy ​White from Cambridge-based Jesterlarf Comedy Club for the past six years. He is now standing down with comic Jack Gleadow taking over.
Gleadow said: 'These awards are great as they recognise the achievements of acts and promotors that are often forgotten for their hard work week in week out entertaining audiences up and down the country on the UK's comedy circuit and it's nice that a spotlight can be shown on them.'
The awards were started in 2013 by John Moloney as he felt other industry prizes not recognise professional comedians who work the circuit year in, year out.
Previous winners have been:
Best Comic
2013 Mick Ferry
2014 Gavin Webster
2015 Zoe Lyons
2016 Jeff Innocent
2017 Ian Stone
2018 Andy Askins
2019 The Raymond & Mr Timpkins Revue
2020 Scott Bennett
2021 (3 way tie) Jo Caulfield, Ninia Benjamin, Mark Nelson
Best MC
2014 Roger Monkhouse
2015 Dan Nightingale
2016 Danny McLoughlin
2017 Laura Lexx
2018 Mandy Knight
2019 Sally-Anne Hayward
2020 Lou Conran
2021 Paul Smith
Independent Promoter
2016 Rob Riley: Comedy In A Van
2017 Blair Brothers: Hot Water
2018 Rob Riley Comedy In A Van
2019 Jim Howarth: Comedy Hotspot
2020 Brett Vincent: Get Comedy
2021 (2 way tie) Andy White: Jesterlarf Comedy and Peter Vincent, an independent booker
Outstanding Achievement Award
2105 John Moloney
2016 Noel Faulkner of the Comedy Cafe
2017 Steve Gribbin
2018 Otiz Cannelloni
2019 Jeremy Hardy & Ian Cognito (posthumous)
2020 Comedy Support Act Benevolent Fund
2021 Sean Lock (posthumous)
Published: 1 Jan 2023