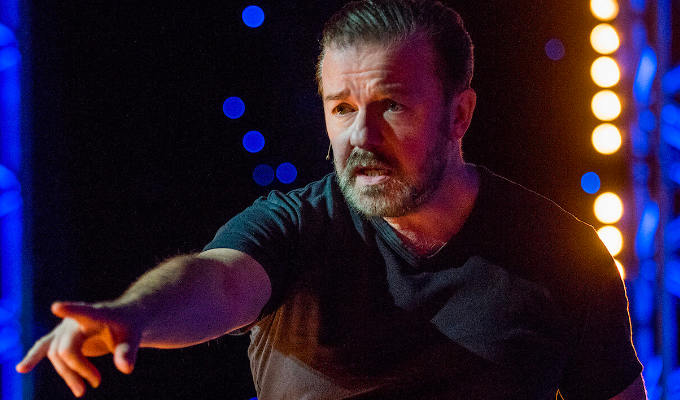 Ricky Gervais 'has become a role model for the alt-right'
Robin Ince has warned Ricky Gervais that he is becoming a 'pin-up for the alt-right' as his comedy dehumanises trans people.
Ince has known the After Life creator for more than 30 years and has been his support on tour, and says they still argue about the nature of offence.
Gervais this week provoked another storm over transphobic material in his new Netflix special, Supernature, and appears to revel in the controversy his routines stir up.
But in a blog post on his Cosmic Shambles website, Ince wrote: 'I think it is easy to forget the collateral damage of jokes. Anti trans punchlines seem to have become highly profitable and it ignores the dehumanising effect on a swathe of already marginalised people.
'I think Ricky believes it is just him being a "naughty boy". I believe it makes him a pin-up and role model for the alt right (which is sadly just the mainstream right nowadays) and, whether he likes it or not, a useful ally in the culture war.
'I know he is not a supporter of alt right ideology, but I see his words used as gifs and memes in support of such ideology.'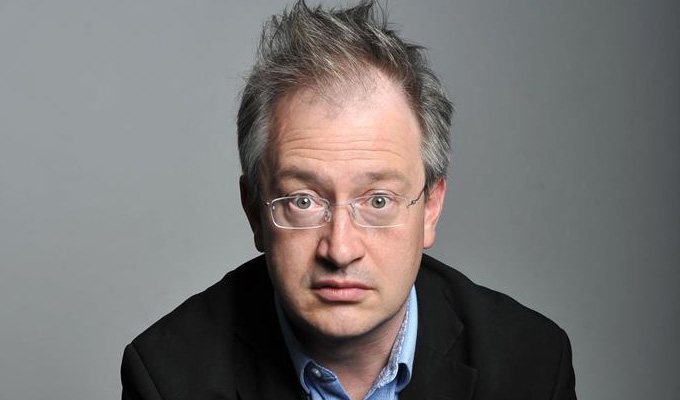 Ince, above, suggested Gervais mistakenly thought attacking censorious liberals who argue with him on Twitter meant he was punching up to the powerful – forgetting the power he has from the millions of viewers who watch him on Netflix.
'What may be subtle and nuanced in your head may only be subtle and nuanced in your head and something very different as it spreads out across the stalls and living rooms.' Ince wrote. 'You know who you are and what you really believe, but the audience do not.
'I think it is all very easy to say a joke is just a joke if you are not the punchline of the joke and that you don't just have to be in comedy club to be the subject of mockery, it might be a mockery that you know is a threat on a minute by minute basis the moment you leave the house.
'The simplest route in comedy is to dehumanise and then to ignore any offence or mock it for further routines… When Lenny Bruce offended, it was for a purpose. Offence for nothing that also dehumanises seems like a waste of offence to me.'
In the show, Gervais talks about 'old-fashioned women, you know the ones with wombs? Those fucking dinosaurs. I love the new women. They're great, aren't they? The new ones we've been seeing lately. The ones with beards and cocks. They're as good as gold, I love them.'
He then acts out a discussion in which someone assumes a trans women is a potential predator, asking ''What if he rapes me?' – prompting the response from an enraged activisit: 'What if SHE rapes you, you fucking TERF whore?'
American LGBT advocacy group GLAAD criticised 'comedians who spew hate in place of humour, and the media companies who give them a platform', saying SuperNature was 'full of graphic, dangerous, anti-trans rants masquerading as jokes' and 'anti-gay rhetoric'.
And journalist and actor David Farrier summed up the response of many liberals when he tweeted: "Ricky gervais being utterly predictable and mocking transgender people in his latest special. it's fucking insane to me how we take some of the most vulnerable, marginalised people in society… and tear them apart to hundreds of millions on netflix like that's okay.'
American comic Guy Branum joked: 'No one should understand the plight of trans people better than Ricky Gervais, who identifies as a comedian, but was assigned talentless at birth.'
However others have praised Gervais for attacking the 'wokies', such as feminist writer Julie Bindel who said: 'Why are so many trans activists going berserk about that Ricky Gervais sketch when it was merely a verbatim rendition?'
Piers Morgan – of course - praised the special as 'absolutely outrageous, fabulously offensive, hilariously funny and already engaging all the right people like @MrNishKumar who are too woke, humourless and dumb to understand the comedy. Brilliant work @rickygervais.'
Daily Telegraph assistant editor Michael Deacon said the jokes were about the 'bullying of women by aggressive activists', and YouTuber Blaire White said: 'Ricky Gervais has been supportive of me, a trans woman, for years. He is not transphobic. He is bullshitphobic.'
But in apparent confirmation of Ince's fears, right-wing US commentator Glenn Beck tweeted that Gervais 'has done THE most offensive comedy special I have seen in years. Brilliant. HILARIOUS 4 all the wrong reasons, but at no time is he aiming the jokes at trans, gay, CIS - all are right between the eyes of wokeism. Bruce, Carlin, Pryor, Chapelle and Gervais'
Beck has claimed Barack Obama was a racist who wanted to build concentration camps for his opponents – although he later rowed back on that statement – and has made dog-whistle attacks on Jewish philanthropist George Soros.
In response to the storm, Gervais told conservative magazine The Spectator: 'My target wasn't trans folk, but trans activist ideology. I've always confronted dogma that oppresses people and limits freedom of expression.'
And he told The One Show: 'Most offence comes from when people mistake the subject of a joke with the actual target. I think that's what comedy is for - getting us over taboo subjects so they're not scary anymore.'
The controversy caused a James Acaster routine about so-called edgy comedians to go viral again.
Acaster told Metro: 'The attitude of comedians saying that they're challenging people with their comedy and then punching down is just completely nonsensical. That's not how challenging people works.'
» Chortle's review of Ricky Gervais: Supernature on Netflix
Published: 26 May 2022
What do you think?