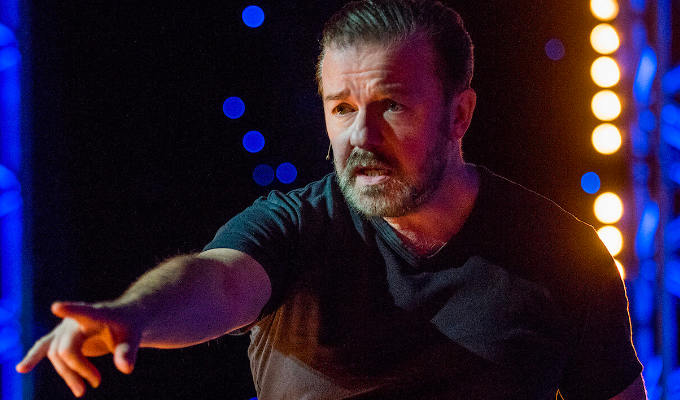 Ricky Gervais: Supernature
'Comedy evolves,' Ricky Gervais tells his SuperNature audience as he explains the nature of stand-up. But his comedy barely does.
The show, released on Netflix today, opens with a riff where he feigns to name-check some female comics to prove women are funny but draws a blank. It's pretty much the same gag he did about being unable to name any funny black British comedians in Extras 16 years ago.
But that's the thin end of a wedge of deliberately offensive material that's showing its age. What was once provocative – about Aids, abortion, Hitler, dwarfs and more – has now turned hack, and Gervais isn't keeping up.
However, his audience vociferously lap this material up, especially given such once-edgy topics are catnip to the sizeable brigade who believe 'you can't say anything anymore' – his core demographic.
For a man so vociferously opposed to religious fundamentalism, Gervais has his own unbending dogma: that 'it's only a joke' excuses anything a comedian might say. So he hits back at 'virtue signalling' and the cancel culture that he believes disproportionately pummelled Louis CK (poor guy, reduced to filling Wembley Arena at £60 a ticket…)
When a Twitter critic accuses Gervais of being 'as funny as a fart at a baby's funeral', he takes it as a compliment, revelling in the fact such a guff would be hilarious precisely because it is so inappropriate. Likewise, he tells a joke about hitting a disabled toddler, and reasonably explains that no one actually got hurt in the making of that punchline.
Yet on the substantial tranche of material about trans women, the morals are murkier. Sure, no one will start hitting toddlers because of a gag, but there are plenty of bigots who get their prejudices reinforced by comedians' anti-trans quips and will take such hateful comments out into the real world.
Gervais has lots to say about trans women - obsessed, he is - and none of it complimentary. Of course he knows this will annoy people, that's precisely why he does it; he revels in the reaction. But even if you buy his argument that a joke has no morality - this is still comically lazy stuff depending, as always, on some variation on the tired 'well I identify as…' trope. Still, it's a lucrative stance: Netflix is a generous funder of transphobia, as Dave Chappelle has also found out.
'I'm rich,' is a punchline to a few gags in SuperNature, as Gervais acknowledges himself as a 'white heterosexual multimillionaire'. And he turns it into the rather good joke that being in the 1 per cent makes him a member of a much smaller minority than most racial or sexual community.
Yes, he's often funny. His best lines will make all but the most fervent liberals laugh despite themselves, which is his aim. But there are just not enough of those moments to break through the more pedestrian progressive-baiting-by-numbers that defines this special.
Gervais is hack on other topics, too, from rectal examination to nudity in gym dressing rooms to noting that living healthily might give you extra years, but they come at the end of your life, not in your prime.
Despite this, one of his strongest routines comes on the most clichéd of topics, the difference between cats and dogs, as he discusses their penises. This is also one of the few segments that refers directly to the purported theme of the special, that nature is so amazing we have no need to invent anything beyond that. What might this show have been had he stuck to his brief?
Instead he gets bogged down in a too-long act-out of what it would be like were he to transition into a woman, just to lean into the subject he knows will provoke controversy, and another imagining God inventing HIV to punish the homosexuals – a routine which would have been bang on the zeitgeist in 1986.
Nature got to be so 'super' because of evolution – but Gervais risks going the way of the neanderthal, dying on the hill that jokes are just jokes, never sincere or consequential.
Review date: 24 May 2022
Reviewed by: Steve Bennett
Recent Reviews
What do you think?