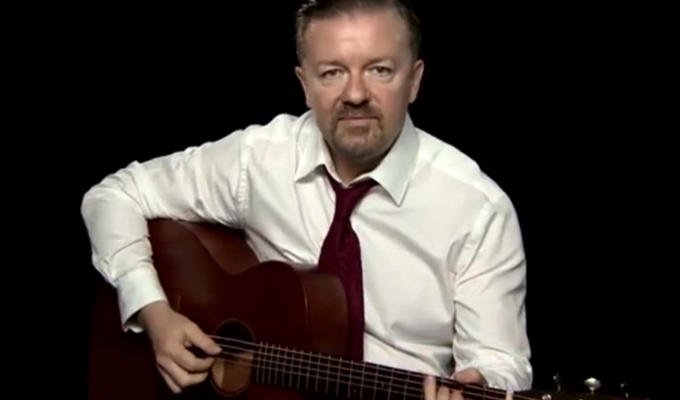 Ricky Gervais plans to revive his music ambitions
He was famously in an unsuccessful New Wave band in the Eighties.
But now Seona Dancing frontman turned international comedian Ricky Gervais is set to revive his music career.
The Office co-creator has written his first serious song in 40 years, and plans to out it it as a single.
Just Three Things was written for the upcoming third series of After Life. Although it only made the final cut in an instrumental form, Gervais says the version with lyrics has been recorded ready for release – and he's even shot a video.
However, he did not sing it. He wrote the song with former Razorlight drummer Andy Burrows, who provides the vocals.
Burrows also worked on the soundtrack to David Brent: Life On The Road and was the drummer in the film's fictional band, Foregone Conclusion.
But Gervais – who is always so cavalier about criticism of his comedy – says he's still not certain about putting the track out in case it's badly received.
Speaking to The Sun about his new song, Gervais said: 'I'm worried about putting it out because I'm embarrassed as it's a real song.
'I can put out ironic songs as David Brent but I haven't written a serious song in 40 years, so I'm ­thinking, "What if it's crap?" — but it's not, it's really good.'
'You're worried about the critical reaction more than when you're being stupid, because when you're being stupid and somebody goes, "That's ­rubbish' you're like, 'I don't give a fuck". If you're being really serious and someone says, "It's rubbish', you go, "Fuck, is it?"'
Published: 2 Dec 2021
What do you think?