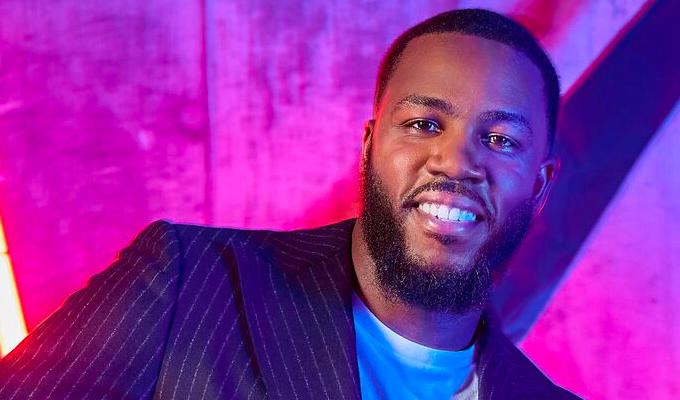 Mo Gilligan gives others a leg-up
Mo Gilligan is giving new talent a break in the new series of The Lateish Show, both on-screen and off.
When the show returns to Channel 4 at 10pm tomorrow night, it will include a stand-up strand called Lateish Introduces… designed to to showcase 'the next generation of rising comedy stars and exceptional circuit names from across the UK'.
Some of the confirmed stand-ups for the slot include Ola Labib, Daman Bamrah, Jenny Collier and Andrew Mensah.
In addition, the comic has appointed two new up-and-coming writers to work on the show - online comedian Lola Jagun and stand-up Aurie Styla.
Under the scheme, called The Lateish Accelerator Programme, five paid entry-level positions have also been included in the production team to give new talent from underrepresented groups the chance to learn from more experienced staff.
Gilligan said: 'We have so much incredible talent in this country, both in front of and behind camera - yet the broadcast industry remains notoriously tough to break into, particularly for those of us from underrepresented groups.
'The Lateish Accelerator Programme has been a long time in the making and I'm so proud to partner with [producers] Expectation and Channel 4 to provide real opportunity for some truly outstanding individuals.'
The comedian has been devised the scheme through his production company Momo G and the Mama Youth Project, which aims to combat what it describes as 'the misrepresentation of people from under-represented groups in the media'.
Its chief executive Bob Clarke said: 'We applaud Mo and his team for a fantastic initiative that will affect tangible change at a time when our industry needs it most.
'Many of our trainees were in the benefits system before joining Mama Youth, so schemes like Accelerator are not only having a positive impact on content while making the broadcast industry a more inclusive environment but are benefiting society too. '
Ben Wicks from Expectation added: 'Mo's upbeat comic energy, positivity and infectious enthusiasm is not only making TV shows better, it's making the TV industry better and we couldn't be more proud to be involved and working with Mama Youth to realise this ambition.'
Last year Gilligan presented a Channel 4 documentary Black, British And Funny to celebrate the black comedy circuit and its stars, who are usually overlooked by the mainstream.
Published: 22 Jul 2021
What do you think?