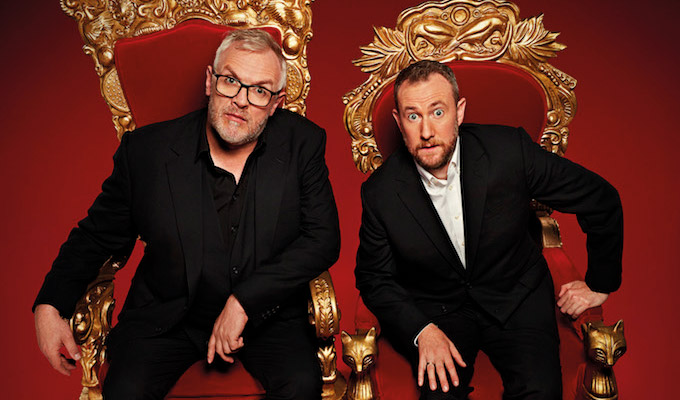 Alex Horne pens new Taskmaster book
Alex Horne is writing a second Taskmaster book – based around a treasure hunt.
Readers of Bring Me The Head Of The Taskmaster will be racing to discover the skull of Greg Davies, similar to the prize comedians compete for on the Channel 4 series.
The book will be published in September to coincide with the 12th series, which will feature contestants Alan Davies, Desiree Burch, Guz Khan, Morgana Robinson and Victoria Coren Mitchel
Publishers Ebury Spotlight say the book will contain 101 'next-level tasks and clues that will lead one ordinary person to some extraordinary Taskmaster treasure… Part game, part treasure hunt, this painstakingly plotted, carefully crafted collection of preposterous tasks is a fully interactive guide to indulging your competitive streak.
'It requires readers to think, draw, jump and act outside of the box, as they race to uncover the head of the Taskmaster. It is to books what Taskmaster is to TV – uniquely original and deviously addictive.'
Horne said: 'Thisis a race with many twists and turns, that requires very little running, much sideways thinking, and quite a lot of patience.
'Thankfully, there will be a shedload of tasks along the way to distract you. There are tasks to do on your own, tasks to do with your family and friends, and tasks for bigger groups too. Some of these distractions may slow you down, but some may help you get where you need to be. As always, enjoy the tasks, do your best, make good choices.'
He added that he was 'constantly surprised and delighted by the ingenuity of people who have taken Taskmaster to their heart, and how fans have run with ideas from the show'.
Horne previously wrote the Taskmaster book 220 Extraordinary Tasks for Ordinary People, which was published by BBC Books in 2018.
Published: 26 May 2021
What do you think?