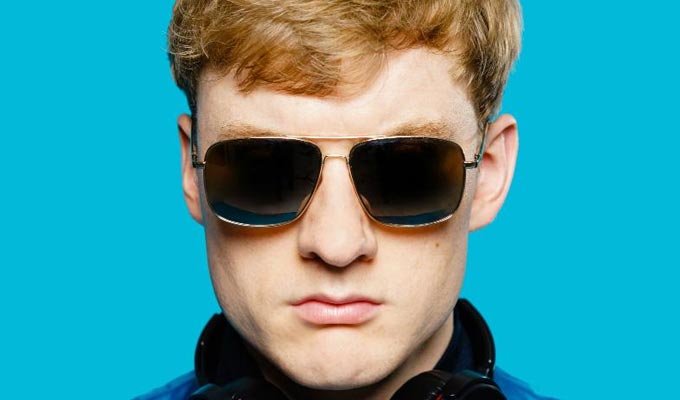 James Acaster: I got heckled for talking about mental health
He has won plaudits for talking about his mental health on stage, but James Acaster has revealed that addressing the topic has not always gone down so well with audiences.
The comic confesses he was stunned to find himself getting heckled when he spoke about his feelings on stage.
'I had some people who, during those routines, would start heckling and shouting out,' he told Paul Chowdhry on his podcast. 'When I said about having suicidal thoughts, I had some people shouting "man up", I had others call me a crybaby and things like that.
'It wouldn't upset me, it would just surprise me that this person had such a visceral, angry reaction to it. Some people accused me of being an attention-seeker when I was talking about it.'
In his show Cold Lasagne Hate Myself 1999, the stand-up spoke about the mental stress he endured following a split with his girlfriend and career woes, which culminated in thoughts of suicide.
Acaster said his experiences in opening up meant he empathised with the backlash the Duchess of Sussex received when she, too, talked about her mental health.
'When Meghan Markle is talking about suicidal thoughts, it almost implies that she's weak or that she's not coping with stuff,' he said. 'But it's like no, any person in her position would have ended up feeling like that because the amount of pressure and hate that was heaped upon her, and prejudice and bigotry, and being on the receiving end of all that… you're insane if you don't let that affect you or if it doesn't affect you in some way.
'And the fact that then there's a stigma attached to just admitting that and then also, when she does admit it, people then go, "she's making that up". It's like, you know what, you switch places with her and see how well you handle it.'
Acaster admitted he might have been naive about being so honest in his stand-up, which didn't prepare him for the reaction.
'I guess I was in a bit of a naive headspace when I started talking about it, because I wasn't making this decision to talk about this taboo thing that no one talks about,' he told Chowdhry. 'I actually thought that it wouldn't be that big of a deal to talk about it. I thought I'm just being a comedian talking about my life and this is the kind of material I want to do at the minute.
'I'd obviously heard people say stuff about "starting the conversation" and things like that, but I always thought it was more that people who are going through mental health struggles don't want to talk about it so we need to get those people to open up. I didn't think it was because society as a whole doesn't want to talk about this.
'It was only when I started doing the material and getting pushback from some audience members… you don't expect that reaction.'
He also said that during lockdown he discovered that he enjoyed his own company and that the 'weirdly social' interaction of stand-up 'doesn't come as naturally to me as I told myself for years'.
He reflected on the constant whirl of the festival circuit, of feeling 'anxious about my show… and straight into a bar or courtyard where everyone's drinking and all your mates are there' and concluded: 'I kind of felt better not doing stand-up. I didn't realise for a long time that… actually a more solitary life, a quiet life, makes me feel happier than necessarily seeing loads of people all the time.
'Stand-up is seeing loads of people all the time and having them judge you. I don't think that really chilled me out very much.'
It follows comments he made to Vulture's Good One podcast last month, when he said: '"If someone said to me now you are never going to perform stand up again I would be glad. I wouldn't be disappointed. Right now I don't want to do it again ever.'
On a lighter note, Acaster reminded Chowdhry of the first time they met, at a charity gig at the Comedy Store in London.
'I don't think you really knew my name,' Acaster said. 'I was just starting out, and you introduced me onto stage as "my main man, James Alabaster!"'
• The Paul Chowdhry PudCast is available on Global Player and other podcast platforms. Acaster will also be a guest on Jonathan Ross's ITV chat show at 9.35pm on Saturday.
Published: 13 May 2021
Recent News
What do you think?