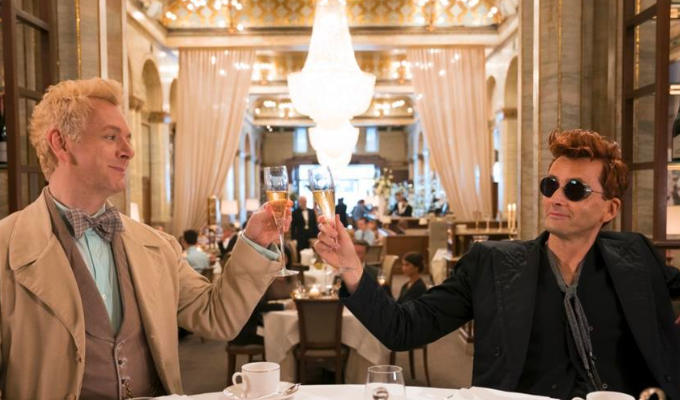 Could Good Omens be resurrected?
David Tennant and Michael Sheen could be reuniting for new series of Good Omens, it has been reported today.
The Sun suggests that filming could start on a second run this year, to air in 2022 on BBC One and Amazon Prime.
Although the original comedy-drama told a complete story, about demon Crowley and angel Aziraphale teaming up to save Earth from the apocalypse, the newspaper claims a follow-up will continue the plot 'well beyond' the original story.
The six episodes, which aired last year, were based on the 1990 novel by the late Terry Pratchett and Neil Gaiman, who was showrunner on the TV adaptation.
Sheen, who played Aziraphale, and Tennant went on to star together in two series of BBC One's lockdown sitcom Staged.
Gaiman previously told RadioTimes that he and Pratchett had plotted a sequel to Good Omens, but never wrote it
'It was about where the angels actually came from,' he said. 'And having come up with that plot, we know that if people love this enough and if the time and the will is there, we could absolutely go back and do a lot more.'
In that article, Sheen also said he would be interested in making more episodes, saying: 'I love the character and I love the world of it. It's very enjoyable working with David and the rest of the team.'
The original attracted a huge roster of guest stars, including Daniel Mays, Anna Maxwell Martin, Nina Sosanya, Doon Mackichan, Miranda Richardson, Jack Whitehall, Josie Lawrence, Johnny Vegas and Jon Hamm.
Not everyone will be happy with the show's return: more than 20,000 Christians signed a US petition against the show for 'normalising Satanism'
Published: 13 May 2021
What do you think?