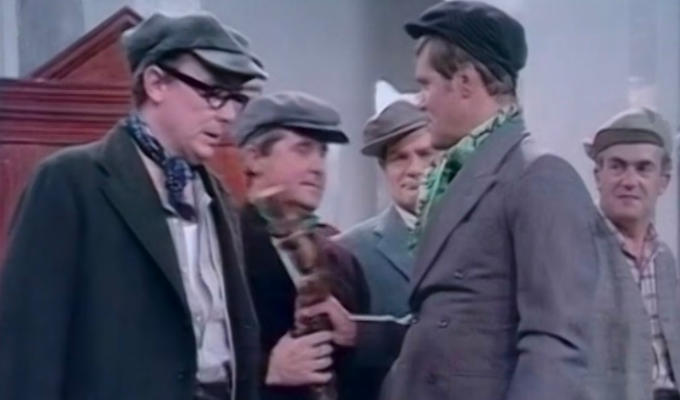 Morecambe and Wise cleared over 'racist' Irish sketch
You don't normally equate Morecambe and Wise with causing offence.
But the BBC's complaints unit today reveals that they have investigated the much-loved duo over a comedy sketch they recorded in 1968.
The skit featured Irish singer Ronnie Carroll and contained references to the IRA that at least one viewer found offensive enough to complain about.
Carroll played an IRA commander testing the Irish credentials of recruits Eric and Ernie, setting them challenges such as dancing a jig - which Morecambe was singularly unable to do, all the while affecting a dreadful cod Irish accent.
The sketch, penned by Sid Green and Dick Hills before Eddie Braben became the duo's writer, aired again on Boxing Day last year as part of The Morecambe And Wise Show: The Lost Tapes.
Recordings of the original show were thought lost but discovered in a derelict cinema in Sierra Leone before being restored and colourised.
The retouched versions first aired in 2018, prompting one blogger to write: 'The writing, the timing, the general silliness – it's one of the funniest things I've seen for some time, but can you imagine anyone on television today daring to make fun of the Irish Republican Army and speak in a mock Irish accent? Would it not today be greeted by howling accusations of bad taste, political incorrectness and even xenophobia, and taken off air?'
Indeed, one of the below-the-line comments dismissed the sketch as 'complete and utter racist rubbish'.
In its fortnightly report published today, the BBC's Editorial Complaints Unit revealed that it received the complaint about an 'offensive reference to IRA' in the programme.
But it was not upheld after being investigated.
Executives also chose not to uphold a complaint about offensive language in an episode of Frankie Boyle's New World Order that aired last September, the week after Sophie Duker provoked newspaper controversy for joking about 'killing whitey'.
Published: 15 Apr 2021
What do you think?