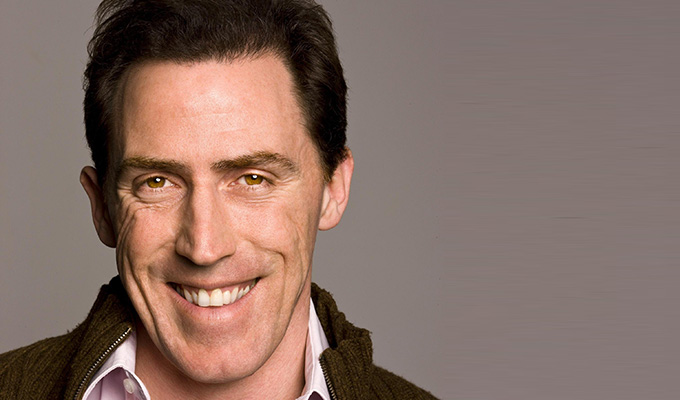 Rob Brydon becomes a podcaster
Rob Brydon has joined the army of podcasters, with a new interview series for Spotify.
In the first episode of Brydon &, released today, the comic speaks to John Bishop, with David Walliams, Jason Manford, Sheridan Smith, Sharleen Spiteri and Miles Jupp lined up for future episodes.
Forty episodes have been commissioned on the back of Brydon's similar YouTube series.
He tweeted today: 'Like many middle-aged men I have had to accept the inevitable, and I wanted you to be the first to know. I have a podcast. It starts today on Spotify, and though I say it myself, it's rather good. Today, John Bishop and I talk. And talk. And talk. Enjoy!'
In the first episode, Bishop retells the story of his first stand-up gig, when he went to the open mic night at Manchester's Frog & Bucket club to cheer himself up during a period of separation from his wife.
He agreed to go on stage to get free admission and said his life changed 'in the space of 15 minutes - because I was called up second'.
'Had I been called up third, I probably would have already left., because the open mic experience is not necessarily a polished comedy experience, it's more care in the community: there was a guy on doing chicken impressions.'
And he recalls his first appearance on The Graham Norton Show, saying: 'At the end, I was waiting for somebody to say, "Come on, we'll go to the pub now." Dame Judi Dench and Elton John have fucked-off off in their cars, and I'm going, "Why is no-one going to the pub, aren't we all mates now?"'
Brydon & is available on Spotify, and the first episode is here:
Published: 8 Apr 2021
What do you think?