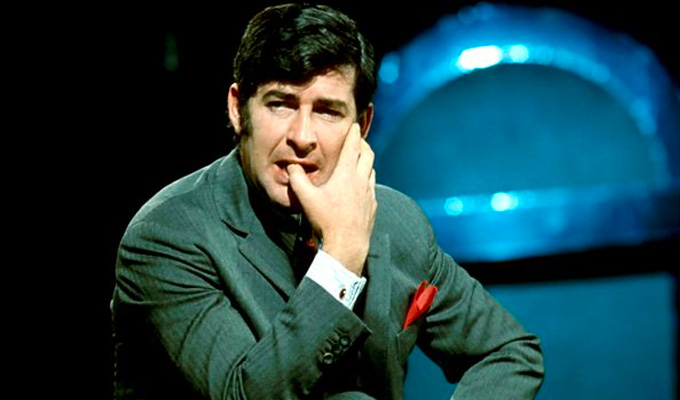 BBC salutes Dave Allen
The week's best comedy on TV and radio.
Sunday February 28
DYLAN MORAN: OFF THE HOOK The broadcast premiere of the languid comic's 2015 stand-up show about politics, loneliness and middle age. Review of the live show. BBC Two, 9.45pm
THE RANGANATHAN: Joe Lycett and Judi Love join Romesh and his focus group tonight.BBC Two, 9pm
ANNA MORRIS: KID-LIFE CRISIS: In the latest of Radio 4's half-hour stand-up specials, the comic talks about being single, childless and living back with her parents at the age of 40. Radio 4, 7.15pm
Monday March 1
EDDIE IZZARD: FORCE MAJEURE: Another broadcast premiere, this time of Izzard's wide-ranging 2013 show spanning ancient civilisations to mythical creatures in a quest for what is universal in humour. Review of the live show. BBC Two, 9pm
RICHARD OSMAN'S HOUSE OF GAMES: Just one comedian taking part this week, Mae Martin, who's pitched against Radio 5 Live's Nihal Arthanayake, presenter Jake Humphrey and actress Patsy Kensit BBC Two, 6pm
WOULD I LIE TO YOU?: Johnny Vegas and Motherland's Anna Maxwell-Martin join presenter Alex Jones and money saving expert Martin Lewis and the regulars. BBC One, 8.30pm
THE STAND-UP SKETCH SHOW: Routines from Huge Davies, Felicity Ward, Kemah Bob, Alfie Brown, Bobby Mair, Suzi Ruffell and Iain Stirling get the act-out treatment in today's episode, ITV2, 10pm
Tuesday March 2
MEL GEIDROYC: UNFORGIVABLE: Richard Ayoade, Ed Gamble and Sindhu Vee are this week's guests sharing their shameful stories. Dave, 10pm
Wednesday March 3
MY COMEDY HERO: Miranda Hart profiles Eric Morecambe in this repeat. BBC Two, 8pm
HYPOTHETICAL: Victoria Coren Mitchell, Joe Sutherland, Maisie Adam and Ed Gamble (again) are given silly things to think about by Josh Widdicombe and James Acaster. Dave, 10pm
Thursday March 4
STAND UP AND DELIVER: In the second part of the Channel 4 show, celebrities including Shaun Ryder, Baroness Warsi and Rev Richard Coles perform their first stand-up sets in front of an audience. Channel 4, 9pm
Friday March 5
TOMMY COOPER AT THE BBC: A clip compilation introduced by Sir Lenny Henry to mark what would have been the comic's 100th birthday. BBC One, 7.35pm
THE LAST LEG: Nush Kumar and Joanna Lumley are the guests. Channel 4, 10pm
Saturday March 6
DAVE ALLEN: The BBC's Festival of Funny continues with another plunge into the archives, this time in celebration of the great Irish storyteller. At 9pm BBC Two is airing The Immaculate Selection, an anthology of sketches from his time at the Corporation from 1971 to 1986, which was first aired in 2014. That's followed at 10pm by a 90-minute collection of whiskey-soaked monologues, On Life, which was first released as a DVD in 2004. (And here's a story about how he lost that fingertip) BBC Two, 9pm
MINDHORN: Julian Barratt plays a washed-up actor who reprises his most famous role, a ridiculous 1980s TV detective, in a bid to solve a real crime on the Isle of Man, in this daft comedy movie from 2016, which the Boosh star wrote with Simon Farnaby. BBC Two, 11.30pm
Published: 28 Feb 2021
What do you think?