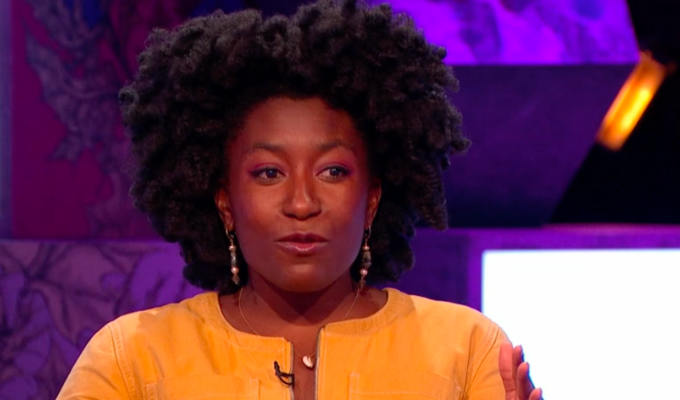 BBC officially dismisses complaints over Sophie Duker's 'kill whitey' joke
The BBC's has rejected complaints about Sophie Duker's 'kill whitey' joke on Frankie Boyle's New World Order – and Fin Taylor's gag about 'bombing Glastonbury' on Have I Got News For You.
Both matters were escalated to the Corporation's in-house but independent editorial complaints unit following an initial response from executives.
But in a report published today, the unit revealed that neither complaint has been upheld.
Duker caused anger in some quarters of the press with her comment on BBC Two in September. Just over 1,300 people complained amid the extensive media coverage - including Sarah Vine complaining in the Daily Mail that the comment was 'putrid nonsense' that indicated support for a 'hateful dogma'.
In their initial response, the BBC actively backed Duker and said the joke was 'within audience expectations for a post-watershed, topical, satirical programme from a comedian whose style and tone are well-established… The panellists' comments were in response to a motion that was written and presented in line with the programme's tone and style.'
The official response to Taylor's comment on BBC One last month was similar.
On the topical show, the comic likened Jeremy Corbyn to Bob Dylan, saying 'I only hate him so much because of his fans' and suggested both sets of people could be eliminated by bombing the music festival.
Again the BBC said viewers would expect viewers to know it was a joke, adding: 'It was clear that comedian Fin Taylor was talking about an utterly absurd scenario and was in no way whatsoever to be taken seriously.'
The editorial unit's report also revealed that it received 266 complaints from viewers unhappy that The Vicar Of Dibley in Lockdown broadcast last week included references to Black Lives Matter. Again the BBC said it was 'in keeping with the character and the theme of the show', which considered the key events of 2020.
Viewers also complained about nudity in an episode of Lee Mack sitcom Semi-Detached in the summer, because of a scene featuring a male strippergram, which featured a full-frontal naked shot. Again, the complaint was not upheld.
Published: 24 Dec 2020
What do you think?