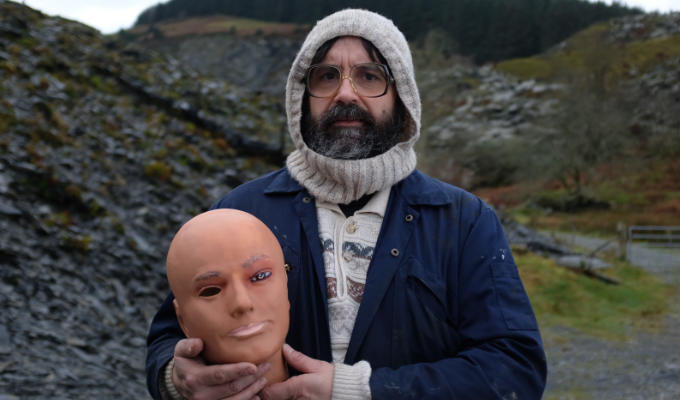 Filming starts on Brian & Charles
The Brian Gittins film, Brian & Charles, has begun filming in North Wales, after a nine-month delay because of coronavirus.
David Earl – who has long performed as his Gittins alter-ego on the comedy circuit – stars and co-wrote the film with Chris Hayward.
As the first image from the set was released, above, Earl said: 'We're delighted to get the show on the road. During the Covid lockdown we wondered if we'd ever be able to make it but here I am stood in North Wales staring at a 7ft robot.'
Nina Sosanya, from W1A and Killing Eve, has joined the cast alongside comedian Sunil Patel; Sherlock's Louise Brealey; Lynn Hunter, who played Mrs Heep in Armando Iannucci's The Personal History of David Copperfield; and Jamie Michie, who played Dom in Daisy Haggard's dark comedy series Back To Life.
The feature, based on an award-winning 2017 short, revolves around the depression-hit Brian building a robot for company. While things start off well, tensions begin to rise, particularly as Charles keeps eating Brian's cabbages.
Hayward, whose writing credits include Cardinal Burns and Misery Bear, voices the robot.
Film4 and the BFI are financing the film, which is directed by Jim Archer and produced by Rupert Majendie, both of whom also worked on the initial short.
Majendie said: 'Having been ready to start cameras rolling in March, it's great to be under way, and we're thankful to the local authorities and community.
'Filmmaking during a global pandemic is a different experience and we're taking every necessary precaution to ensure we do so safely, but we can't wait to bring this strange and incredibly heart-warming story to life.'
Nicholas Asbury, identical twins Lowri and Mari Izzard and Cara Chase have also joined the cast.
Published: 1 Dec 2020
Recent News
What do you think?