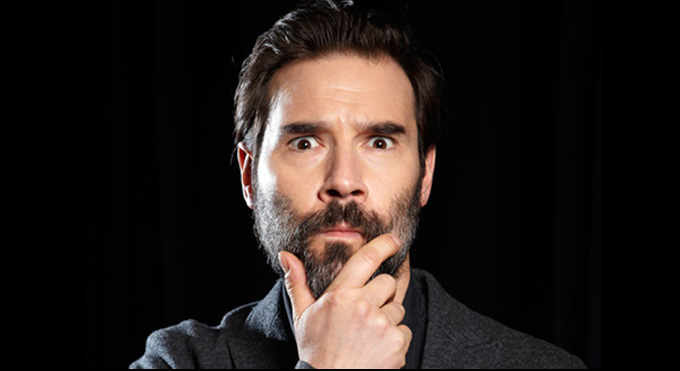 Adam Buxton set to release musical EP
Adam Buxton is set to release a four-track musical EP next year.
The comedian and podcaster revealed his plans at the Chortle Comedy Book Festival last night, after one fan asked if he had ever considered expanding his comedy jingles into full songs.
'I'm going to try to do an EP early next year,' he said. 'I'm going to try to hook up with an actual talented producer and put out four songs.
'So far I've written a song about a wheelie-bag. I like writing songs about things that have been a boring part of society for 15 years.'
Elsewhere in the session Buxton expressed some jealousy of musicians who could create an album that would be their legacy, while 'so much comedy is ephemeral and in the moment, it's frustrating.'
Indeed, Buxton says he prefers podcasting to radio, admitting: 'I didn't like the live thing too much - I get too nervous. I benefit from heavy editing.'
He said his favourite guests on the podcast were those who were passionate and talkative 'and like me - or at least pretend to like me', and cited Kathy Burke and Guz Khan as his most enjoyable interviewees.
On the other hand, he said: 'I get the sense some people are doing it because they've been told to do it.'
Speaking to US comedian Bill Burr was 'less easy-going' he said, adding that there was 'a bit of a culture clash' and 'I was struggling… It turned out OK, I think, but I had to work fairly hard.
He recalled meeting Burr in a New York comedy club 'and Joe Rogan, came down and it was all alpha-comedy testosterone, and I thought "I don't belong."'
And he said American author Malcolm Gladwell only came on the show because his publicist told him Buxton was the British Joe Rogan. 'I'm not the British Joe Rogan in any way, shape of form,' Buxton protested.
Speaking about his Ramble Book, the comic said he first envisaged the memoir as an audiobook to appeal to podcast fans.
But he declined to help Radio 4 adapt it for broadcast, as the prospect of condensing it seemed daunting.
'To me, it was a roller-coaster ride of tonal variation between heartbreaking stuff and the funny and silly. How do you get that across in five 15-minute episodes?
'It was interesting to get someone else's take on what it was all about, and they thought it was my dad, that's what they leaned on the most. If I wrote the book again maybe that's something i would change [to make that the focus], rather than having 10 chapters of David Bowie.'
Adam's father Nigel – BaaadDad from Channel 4's The Adam and Joe Show – died in 2015, aged 91 after a long career in travel journalism. And the comedian said he would probably write more about his mother, who has also since died, if he was to pen a sequel – as well as going into more depth about his relationship with his school friend turned comedy collaborator Joe Cornish.
'The obvious thing would be covering the 1990s and where my friendship with Joe went in that decade,' he said. 'The friendship was put under considerable stress by making a home-made TV show together.
'But I would check with him first about what level of honesty he would be comfortable with
'I'd also talk about my mum, I think - since the book came out my mum died, sadly, I felt a bit weird I didn't talk about her much in the book.'
Published: 16 Nov 2020
What do you think?