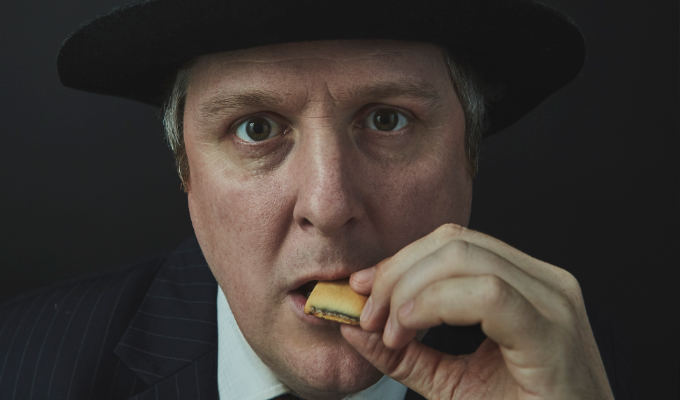 Tim Key writes a new book
Tim Key has written a new book during lockdown, to be unveiled at next week's Chortle Comedy Book Festival.
He Used Thought As A Wife is described as an 'anthology of poems and conversations from inside' and is his first new title in almost a decade.
The comedian and Alan Partridge co-star started writing new poems during the first Covid lockdown earlier this year, then, according to the book's 'he started writing down his conversations. Zoom, phone, yelling down onto the street. He scribbled them down.
'Then it was a case of splicing them together a bit as it became apparent that it would probably be a book.
'He reached out to his long time designer, Emily Juniper, to make it look beautiful and the two of them began collaborating to give their Lockdown a bit of purpose and colour.
'The result is Key's fourth book, timed, unintentionally to be released at the back end of the second lockdown. It's humorous hopefully, but was also very useful to write at least.'
Key's previous books are The Incomplete Tim Key: About 300 Of His Poetical Gems And What-Nots, published in 2011, as well as the out-of-print 25 Poems, 3 Recipes and 32 Other Suggestions. (An Inventory) and Instructions, Guidelines, Tuteledge, Suggestions, Other Suggestions, and Examples etc: An Attempted Book.
Key will be giving a preview of the new work in an online session of the Chortle Comedy Book Festival at 5pm next Tuesday, November 17. Tickets for the event are available here, priced £8.14 including fees.
In another newly-announced session, Caimh McDonnell will be talking to comedy writer Dave Cohen about how he made the transition from stand-up to author, via self-publishing – and how that could help other comedians struggling to make a living during lockdown. That session is at 5pm on November 18, with tickets available here.
Alternatively, a £49 pass grants access to all 22 sessions over the eight days (and also on catch-up from after the festival until December 13) including sessions from the likes of Adam Buxton, Frank Skinner, Mark Watson, Helen Lederer, Richard Herring, Andy Hamilton, Laura Lexx and more. That works out at £2.22 per session!
Season pass holders also get six-months membership to comedy streaming service NextUp, and their vast library of stand-up specials, plus a bottle of wine from Honest Grapes and discounts on festival books at Waterstones.
Buy this package here.
For full details of the festival, visit the official website.
Published: 10 Nov 2020
What do you think?