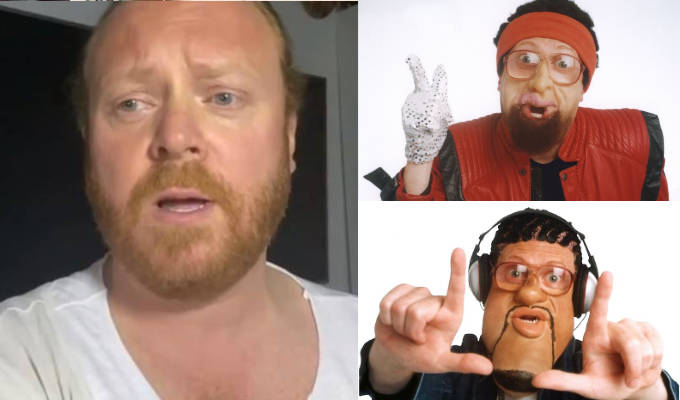 No'Selecta!
Bo'Selecta! has been pulled from Channel 4's on-demand service amid the ongoing debate about comedians using blackface, Chortle can reveal.
The broadcaster quietly removed all five series of the comedy last week after creator Leigh Francis apologised over his portrayal of black celebrities on the show.
Their move also came as Little Britain was dropped from streaming services because of its use of blackface; while Matt Lucas and David Walliams's follow-up show Come Fly With Me was also removed from Netflix.
Last week, in the wake of rising protests in the UK and US over the death of George Floyd at the hands of Minneapolis police, Francis recorded a tearful message for Instagram with the caption: 'I want to apologise to anyone that was offended by Bo'Selecta. I'm on a constant journey of knowledge and just wanted to say I'm deeply sorry. #blacklivesmatter.'
In the footage, Francis – now best known for his Keith Lemon alter-ego – said: 'Back in 2002, I did a show called Bo'Selecta, I portrayed many black people. Back then I didn't think anything about it, people didn't say anything – I'm not going to blame other people.
'Well, I've been talking to some people. I didn't realise how offensive it was back then.
'I just want to apologise, I just want to say sorry for any upset I caused whether I was Michael Jackson, Craig David, Trisha Goddard, all people I'm a big fan of. I guess we're all on a learning journey.'
It turned out to be Goddard's intervention that prompted him to make the apology after she told the comedian that she felt 'hurt, distaste and disgust' over his portrayal and that her children were bullied over it.
'It emboldened a lot of casual racism,' she told him. 'It would be a very powerful gesture for you to recognise what part you played in perpetuating blackface.'
A Channel 4 spokesperson told Chortle this morning: 'We support Leigh in his decision to reflect on Bo'Selecta! in light of recent events and we've agreed with him to remove the show from the All 4 archive.'
Bo'Selecta aired on Channel 4 between 2002 and 2006 followed by a two-part Michael Jackson special in 2009, but he was criticised for blacking up in the series even while it was airing.
Netflix removed both Little Britain and Come Fly With Me from its library on Friday, dividing audiences between those who thought it was about time the 'unacceptable' shows were removed and those who thought they should be allowed to make their own choices of what to watch.
Little Britain had also been available on BBC iPlayed and BritBox, but was also pulled, with both platforms saying; 'Times have changed since Little Britain first aired so it is not currently available.'
HBO Max has also pulled the classic 1939 movie Gone With The Wind from its platform, saying the movie, set on a plantation using enslaved workers, was 'a product of its time' and depicted 'ethnic and racial prejudices [that] were wrong then and are wrong today.'
Published: 10 Jun 2020
What do you think?