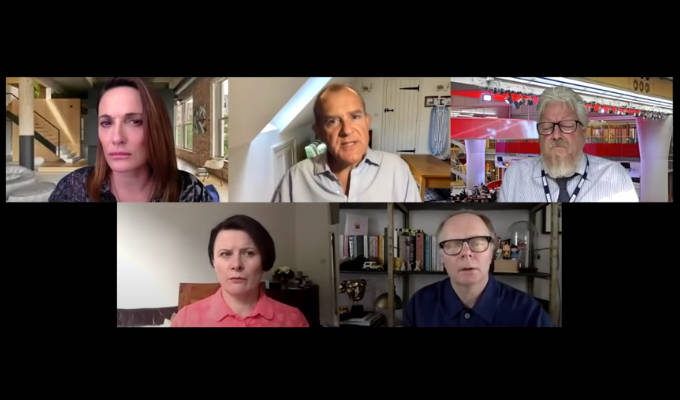 W1A makes a surprise return
The cast of hit BBC comedy W1A reunited for a lockdown special last night – prompting hopes the show could make a return to the screen.
In a new five-minute clip posted online, Hugh Bonneville returns as Head of Values Ian Fletcher to announce the formation of the BBC Covid-19 Bounce Back Group.
His comments immediately prompt Monica Dolan's character Tracey Pritchard to comment: 'I'm not being negative or anything but can I just say I've got a very bad feeling about this.'
Also taking part in the clip are show regulars Sarah Parish, Jason Watkins, and David Westhead who make up the newly formed Bounce Back Group.
Opening the Zoom meeting, after establishing that Head of Output Anna (Parish) hasn't frozen, Ian tells his colleagues they are no longer part of the Way Ahead Group, but instead the BBC Covid-19 Bounce
'The remit couldn't be more exciting – to try to imagine what the new normal will look like and to begin to plot a path towards it from wherever it is that we are now,' Fletcher says. 'What we known of course is that it won't look anything like the old normal, or as I think we can safely call it now, the past.'
They the go on to discuss how to fill the schedules given the dearth of new programming, wondering what viewers' reactions to more repeats will be.
The new clip, entitled 'Initial Lockdown Meeting was uploaded onto a previously unused YouTube channel called SyncopatiZoom, a nod to the fictional IT system Syncopatico.
The surprise release of the clips follows a new speech Bonneville recorded as Fletcher to introduce a new recording of the series' theme tune – Las Vegas by Laurie Johnson and previously used on Animal Magic – as recorded by the BBC Concert Orchestra under social isolation.
And last week Bonneville and some of the rest of the W1A became involved in a Twitter thread that kept the show's spirit alive after genuine BBC journalist Tom Hourigan shared a peculiar question he'd been asked in a staff survey (read it here)
The renewed activity has sparked hopes that the mockumentary might return to BBC Two, with many fans taking to social media to call for a comeback.
BBC World Service journalist Ellis Palmer tweeted: 'This W1A-in-lockdown sketch has me howling with laughter, but as anyone in the media knows, the series was painfully accurate in its satire of the modern media.'
But when the third series aired in 2017, creator John Morton said: 'This is probably going to be its final [series]. It was written to a conclusion and with that I mind I thought, "This has got to be good."'
Viewers will be hoping the lockdown and subsequent challenges for the BBC will be giving him more ideas for storylines...
Published: 21 May 2020
What do you think?