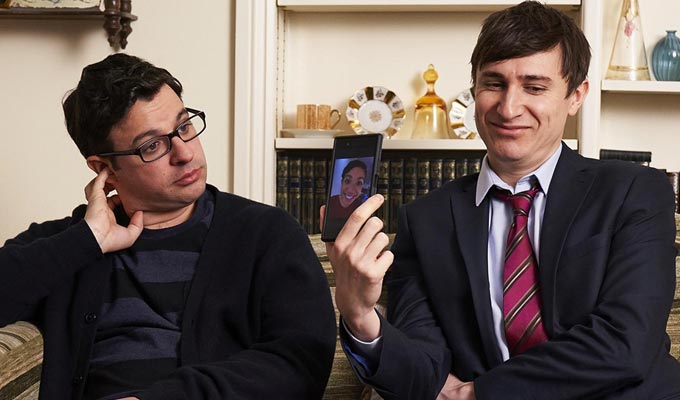 Friday Night Dinner returns
The best of the week's comedy on TV and radio.
Sunday March 22
EXPLICABLE ME: As part of BBC Radio 2's Funny Fortnight. This new entertainment show is based on the sort of silly personality tests you find in magazines. Host Suzi Ruffell and sidekick Ahir Shah test Tom Allen and AJ Odudu on questions such as what body part they would be, which famous billionaire they are most like and what they would do in the event of a dinner party disaster. Radio 2, 9pm
Monday March 23
THANKS A LOT, Milton Jones! A new six-part series of silliness starts with the comedian forming a police corruption unit. The cast also includes Tom Goodman-Hill, Josie Lawrence and Dan Tetsell. Radio 4, 6.30pm
YOU WON'T BELIEVE THIS BUT: Radio 4 Extra is marking the 85th birthday of Barry Cryer today, as he reads his own 'autobiography of sorts', as originally broadcast on Radio 4 in 1998 The first instalment charts Barry's beginnings in Leeds to his arrival as a young comic at London's Windmill Theatre. Radio 4 Extra, 2.45pm. And later in the day Jo Brand interviews Cryer in a rerun of a 2004 episode of Chain Reaction, the tag talk show where the guest is next week's interviewer. Radio 4 Extra, 10.30pm
Tuesday March 24
COMEDY AGAINST LIVING MISERABLY: A stand-up special with Joel Dommett, Kiri Pritchard-McLean, John Robins and Judi Love in aid of mental health charity Calm. Before taking to the stage, the comics talk about their own relationships with mental health, including stories about dealing with grief, the side-effects of gaslighting and how not to cry on the toilet. The comics are donating their fee, which is matched by broadcaster Dave, making a contribution of £100,000 to the charity. Dave, 9pm
Wednesday March 25
MISTER WINNER: In this new BBC sitcom, which follows a 2017 pilot, Spencer Jones stars as Leslie Winner an eternally optimistic, butter-fingered bungler whose heart is in the right place - a character not far from his stage persona. Fellow comic Lucy Pearman plays his fiancé Jemma, and they are preparing for their wedding - and trying to figure out how to pay for it. In episode one, Leslie is on a house clearance job with his future father-in-law Chris (Shaun Williamson) when he finds an abandoned piano and quickly comes up with a scheme to make some money from it. Read an interview with Jones here and with writer Matt Morgan here. BBC Two, 10pm
HITMEN: Mel Giedroyc and Sue Perkins star in their first scripted comedy together about two best friends trying to make their way in the world with only each other to rely on who also just happen to kill people for a living. Read an interview with the duo here. Sky One, 10pm
HYPOTHETICAL: This week Josh Widdicombe and James Acaster will be posing ridiculous scenarios to Jamali Maddix, Laura Lexx, Rosie Jones and Joe Lycett. Dave, 10pm
Thursday March 26
BROOKLYN NINE-NINE: Series seven of the ensemble cop comedy, led by Andy Samberg, comes to E4 about six weeks after it launched in the States. Starting with a double bill. E4, 9pm
MARK WATSON AND Matt Winning: SERIOUSLY, THOUGH, THE PLANET: Take your mind off coronavirus, with talk of another global catastrophe: climate change. Remember that? Mark Watson teams up with fellow comic and actual environmental scientist Dr Matt Winnin to try to share some advice on saving the planet. Radio 4, 11pm
FRANKIE HOWERD: The king of titters returns to Radio 4 Extra with a series of shows unearthed from the BBC archive, and last broadcast on Radio 2 in 1973., June Whitfield and Bob Todd co-star. Radio 4 Extra, 8am
Friday March 27
FRIDAY NIGHT DINNER: Robert Popper's award-winning comedy about the Goodman family returns with a sixth series, starring Simon Bird, Tom Rosenthal, Tamsin Greig and Paul Ritter. And there's big news in episode one as Adam and Jonny have both got girlfriends. Meanwhile, Dad has bought a 'dustbin-on-wheels' caravan and Jim has a new dog. Channel 4, 10pm
DUNCANVILLE: The US animated comedy that revolves around a 15-year-old boy with a rich fantasy life kicks off on Channel 4 with a double bill. It was created by Amy Poehler, Simpsons showrunner Mike Scully and his wife Julie, a writer on the Springfield-set cartoon. Poehler voices the lead character and his mum Annie, a parking warden. Ty Burrell – Phil Dunphy in Modern Family – plays dad Jack, a rock-obsessed plumber; Riki Lindhome, from musical comedy duo Garfunkel and Oates, is his teenage sister Kimberley; and Grey's Anatomy actress Joy Osmanski his younger sister Jing.

IT'S A FAIR COP: Former Humberside police sergeant and stand-up comic Alfie Moore returns for another series where the audience are asked how they would deal with real-life policing dilemmas. Radio 4, 11.30am
Saturday March 28
JOCK: Another pilot in Radio 2's Funny Fortnight series, this sitcom about reluctant retirement.is written by Still Game's Greg Hemphill with Donald McLeary. Gary Lewis plays the title character: one of the world's most successful football managers on his first day of retirement. Radio 2, 9pm
LOST IN TRANSLATION: And this pilot is a comedy panel show in which host Tom Allen and his celebrity guests James May, Stacey Solomon, Daliso Chaponda, Russell Kane, Sophie Duker and Rhys James dissect language, foreign cultures and everything else that gets misunderstood. Radio 2, 9.30pm
Published: 22 Mar 2020
What do you think?