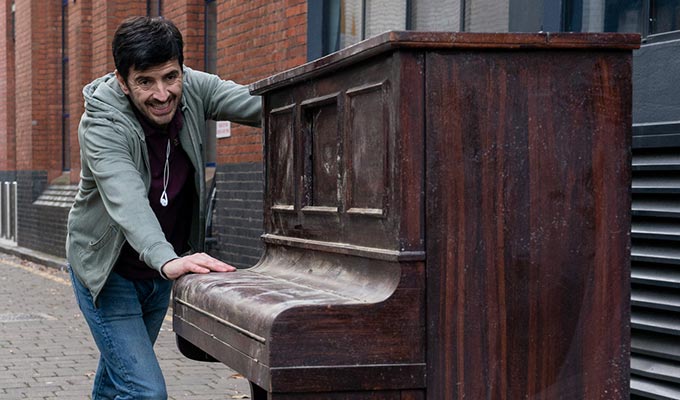 'When physical comedy makes you laugh, it's funnier than anything verbal'
Why did you want to write this show?
I wanted to do a family show that centred on physical comedy. It's think it's something of a dying art. I took inspiration from people like Peter Sellers, Buster Keaton, Chaplin, Laurel and Hardy, and programmes like Some Mothers Do 'Ave Em, Mr Bean and the Zach Galifianakis show Baskets.
I wanted to pair that physical stuff with more of a sitcom set-up, with dialogue between the characters and a story of the week.
We found with Mister Winner, that the simpler the setup, the funnier it was. In the pilot we used more ambitious stunts, but with the series, we found that it was really the simplest things that reaped the funniest rewards. And Spencer is so brilliant at the smaller physical moments. I hope the show feels interesting and different.
How have you found working with the cast?
The cast were all fantastic. Clichéd but true.
Spencer Jones is so brilliant at physical comedy and prop comedy. I'd seen his show in Edinburgh and when the idea arose I knew there was no one else for the job.
Although he's quite a naturalistic actor, he's got Mr Bean and Stan Laurel's DNA running through him. He really threw himself into the role but I will say health and safety and risk assessments have come on a long way since the good old days. I think we only used a stunt double once and Spencer was gutted he couldn't do it himself.
Lucy Pearman does a very similar type of stand-up to Spencer, and is brilliant. She does a lot of costume-work and weird voices - it's very vaudevillian. She has such a natural on-screen vibe with Spencer. Because she's a comedian she makes very good choices and is an expert in physical comedy as well.
Often in this type of show, you get an eye-rolling, tutting partner, which is not believable and doesn't go anywhere, story-wise. Early on we decided we didn't want to go down that route, and Lucy was brilliant at finding the truth in the character.
Jemma, Lucy's character, stays with Leslie, Spencer's character, because she genuinely thinks he's funny. She despairs slightly, but overall she loves him and finds it all quite amusing. And Jemma's not got it all together herself…
Harriet Thorpe is brilliant - I remember watching her in the Brittas Empire when I was a kid. She's got a solid background in studio sitcoms and is very good at comedy.
Shaun Williamson is so great. People know him from EastEnders of course - he works really hard as an actor and he listens. He's also a really nice bloke and very good at comedy. You can't forget, he was in Extras. If he's good enough for Ricky Gervais then he's got his comedy chops.
Why should people watch the show?
Audiences should tune in because Mister Winner is completely non-cynical and non-sneery. There's no cruelty, there's no big target to the humour… It's relatable. It's a warm show.
If you can get it across right, which I hope we have, it's funny for all ages and all languages. With the physical stuff the test for me was: Would this still be funny with the sound down?
It's a family show by design and we wanted it to be funny for little kids and grandparents equally. This actually makes it harder because you can't fall back on the normal tricks, you can't do an awkward sex joke (or at least not an overt one, I think a couple might have snuck in).
I hope we've got it right - when physical comedy makes you laugh, it's funnier than anything verbal. To laugh at something without there being a line or a joke, it's almost a deeper laugh because it's so primal.
• Mr Winner starts on BBC Two on Wednesday March 25 at 10pm
Published: 20 Mar 2020
What do you think?