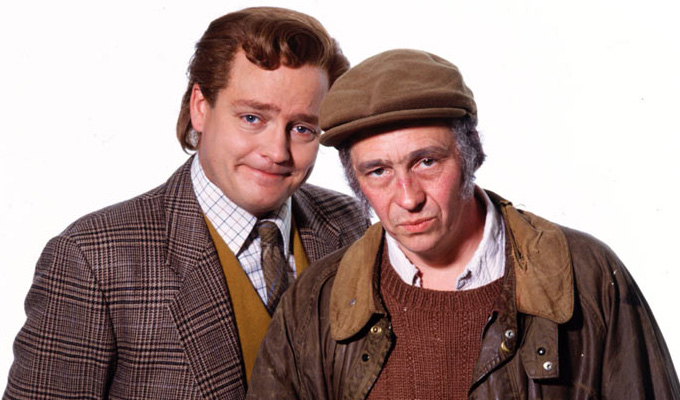 Brilliant! Fast Show team to reunite
The cast of The Fast Show are to reunite for a belated 25th anniversary celebration, in which they will reprise some of their favourite creations.
Paul Whitehouse, Charlie Higson, Arabella Weir, John Thomson, Simon Day and Mark Williams will be interviewed about the classic sketch sketch show for a two-hour special for the Gold channel.
And they will also be talking in character, as the likes of Swiss Toni, Dave Angel, Jesse, No Offence, Professor Denzil Dexter and Rowley Birkin QC.
In a statement, creators Whitehouse and Higson said: 'It's 26 years since the first episode of The Fast Show went out. We didn't manage to celebrate our 25th anniversary but we are marking it now.
'All the (remaining) contributors will be reflecting on their favourite bits and some of the characters will also be looking back at their time on the show.'
Missing from the line-up will, of course, be Caroline Aherne who died in 2016 at the age of 52.
The Fast Show originally ran from 1994 to 1997, with a special in 2000, starting on BBC Two before moving to the flagship channel.
It was then revived by beer company Fosters for an online series in 2011, but without Williams. That series was later shown as two 30-minute episodes to mark BBC Two's 50th birthday in 2014.
The retrospective, subtitled Just A Load Of Blooming Catchphrases will air on Gold later this year.
UKTV's head of comedy Iain Coyle said: 'The Fast Show is one of those shows, it's a defining moment in comedy history. No sketch show has come close to having its impact, in my TV life, and no show 'as come anywhere near to creating as many unforgettable characters."
Gold channel director Gerald Casey added: 'It's hugely exciting that Paul, Charlie and the rest of the fantastic cast of The Fast Show are reuniting especially for Gold. We know viewers will love hearing the behind-the-scenes stories from the show's history, and as a fan, I can't wait to see all their classic characters again.'
The Fast Show: Just A Load Of Blooming Catchphrases production credits
Made by: Crook Productions
Executive producers : Matt Crook and Adam McLean
Producer: Victoria Thomas.
UKTV commissioning team: Iain Coyle, UKTV head of comedy entertainment, Gerald Casey, Gold channel director; Richard Watsham, director of commissioning; Steve North genre general manager for comedy and entertainment.
Published: 9 Mar 2020
What do you think?