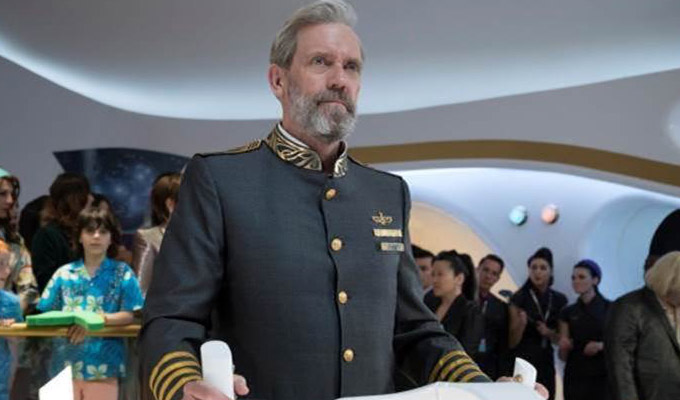 Avenue 5 is given more space
Armando Iannucci's space comedy Avenue 5 has been renewed for a second season.
The show, which stars Hugh Laurie as the captain of a stricken space liner 40 years in the future, is a co-production between Sky and HBO.
Jon Mountague, director of comedy for Sky Studios, said: 'They say "in space no one can hear you scream" but Armando Iannucci proves they can definitely hear you laugh. Millions of viewers were left starry eyed by Avenue 5's cast lead by Hugh Laurie, they can't wait for more.'
The second episode of the show, which launched last month, actually attracted 44,000 viewers live to Sky One, but a total of 730,000 when on-demand and time-shifted views are taken into account. In the US, it launched with 570,000 live viewers, but that had halved by last week's fifth episode.
'We've loved every minute of Avenue 5's inaugural voyage,' said Amy Gravitt, executive vice president of HBO programming. 'Armando Iannucci and his team are masters of smart and incisive comedy, and the ensemble cast, brilliantly captained by Hugh Laurie, is second to none. We can't wait to see what's in store for our hapless heroes in season two.'
Despite her effusive praise, episode one received mediocre reviews from UK critics. The Guardian said it was 'crammed with laboured laughs – and has no clue where it's headed', Chortle said, 'like the space cruise itself, Avenue 5 gets off to a very bumpy start', and the Daily Telegraph joked: 'In space no one can hear you scream, "but this isn't as funny as The Thick of It!"' The i said there were more laughs in the trailer for Iannucci's new movie adaptation of David Copperfield than the whole first episode of Avenue 5.
However, the Independent gushed in a five-star review that 'Avenue 5 is not just good – it's galactically good.'
The series also stars Josh Gad as the billionaire owner of Avenue 5; Zach Woods as the disinterested head of customer relations; Rebecca Front as a push passenger and Lenora Crichlow as a savvy engineer.
Iannucci said: 'I'm thrilled Sky is giving me even more of it to play with. Nobody provides angst-ridden laughs better than Hugh Laurie, and we're looking forward to seeing what further impossible situations and existential crises we can plunge him, Josh Gad and the rest of our fantastic cast into next."
Laurie added: 'It's thrilling to discover that space isn't finite after all. I'm very excited to be continuing on this journey with Armando, HBO and Sky, and also an amazing group of actors and writers who make me laugh every day. Here's to the future!'
Published: 13 Feb 2020
What do you think?