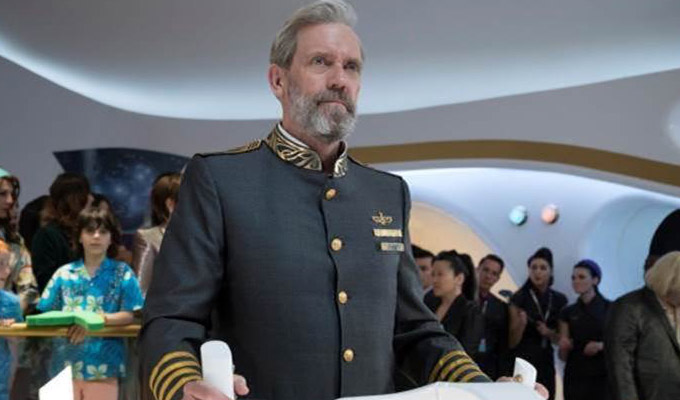 Avenue 5
It revolves around a hapless band of out-of-their-depth chancers trying to maintain a public veneer of trusted competence while privately reacting in panic to events around them. But Armando Iannucci's sci-fi comedy Avenue 5 is not Veep, nor The Thick Of It, in space.
The action, set a few decades into the future, revolves around a space liner for tourists, plunged into crisis when it is knocked a fraction of a degree off-course. It turns a cruise that had been expected to last weeks into a three-year journey and throws into urgent focus the fact that nobody is in charge.
Not Captain Ryan Clark, played by Hugh Laurie, who is little more than a reassuring, suave figurehead; not Herman Judd, the petulant billionaire man-child owner of the ship with as much empathy as Elon Musk, as played by Josh Gadd; not Matt Spencer (Veep's Zach Woods), the head of customer relations who hates customers; and not the technical team on board or back in mission control – an infuriating 26-second delay away – who are out of ideas. Their best chance might be the irritatingly pushy passenger Karen Kelly (Rebecca Front), the squeakiest of wheels who nevertheless has an aversion to swearing almost unheard-of in Iannucci's previous work.
With so many incompetents, it's never quite clear whose story this is. That might be a product of the heavy lifting episode one needs to do to introduce all the characters and the premise in just 30 minutes, but it feels like an unsatisfying jumble.
Another issue is the fact there seems to be nothing anyone can do about their situation. While it was always possible that the politicians and spin doctors of Iannucci's former work could find a way out of the binds their own mistakes landed them in, here the only solution would ever be some deux-ex-machina space engineering mumbo-jumbo.
Instead, then, this should a show about the characters and their interactions, which we don't really get to see. And since they are all rather unlikeable – save for Laurie's Clark and engineer Billie McEvoy (Lenora Crichlow) – caring for them seems like a tall order. Frankly, most of them seem like they deserve to drift in space.
Still, the 'sit' Iannucci has created has plenty of promise, such as the satirical possibilities contained in a world where tech, ego and capitalism are left unchecked; and there's fun to be had with tropes such as the fact Laurie's American accent, so convincing in House, is not his own, or the unforgiving brutality of space.
There are a few good lines, too, though they don't come nearly fast enough – including some throwaways about events that could well have happened between 2020 and 2060.
Like the space cruise itself, Avenue 5 gets off to a very bumpy start, but given Iannucci's impeccable track record, we can only trust these glimmers of promise bear fruit, and the comedy will settle down in the long haul. But episode one doesn't single the show out as a must-see.
• Avenue 5 is on Sky One at 10pm tonight.
Review date: 22 Jan 2020
Reviewed by: Steve Bennett
Recent Reviews
What do you think?