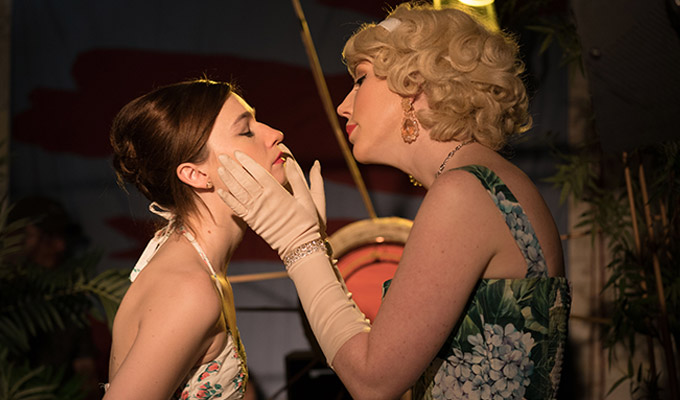 Katherine Ryan to play Joan Rivers
Katherine Ryan is to play her comedy heroine Joan Rivers in the new series of Sky's Urban Myths,
She has been cast opposite Jessica Barden from The End of the F***ing World in the half-hour film, that is Sue Perkins' directorial debut.
And above is the first picture from the show.
Chortle exclusively revealed the existence of the film in December, with the storyline revolving around a controversial lesbian kiss between the two stars, long before they got famous.
Ryan's comedy is often compared to that of Rivers, and three years she hosted a Channel 4 show called, How'd You Get So Rich?, based on a US format the late American comedian fronted.
At the time, Ryan said of Rivers: 'I love her. She was just a total trailblazer; an amazing philanthropist.
'She hosted the show in America where she'd interview millionaires and billionaires and try to charm and disarm them as a comedian into revealing a lot about themselves.'
Last month Chortle also reported how Inside No 9's Steve Pemberton had written another Urban Myths film about Les Dawson, and the time he claimed to have spent in a Parisian brothel.
Sky tonight revealed the details of the fourth series of the strand, very loosely based on true stories, that comprises two other half-hour films.
In one, Robbie Coltrane is to play Orson Welles at a time late in his career when the legendary actor-director wound up working at a regional television centre in Norwich.
And in another, revolves around Jimi Hendrix and George Friderick Handel sharing the same London flat – but more than 200 years apart
The news was announced at Sky's Up Next showcase industry event at the Tate Modern tonight – which also revealed a second series for David Schwimmer and Nick Mohammed's new comedy Intelligence, a commission for a Samson Kayo and Jane Horrocks show, Bloods, and the pilot of a new show from Greg Davies.
The full blurbs for the new episodes are:
Urban Myths: Les Dawson's Parisienne adventure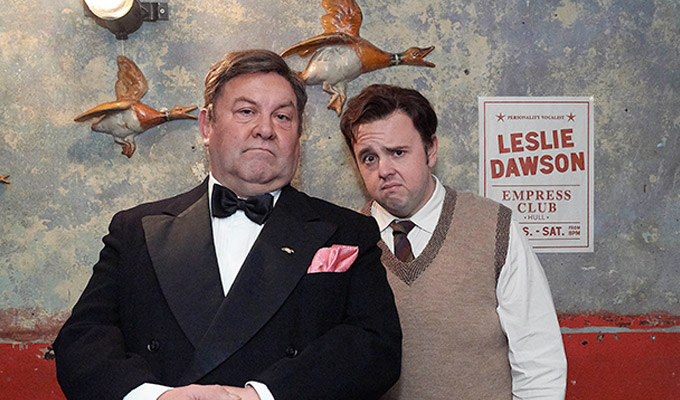 Written by and starring Steve Pemberton alongside John Bradley and Mark Addy this episode tells the story of the well-loved stand-up comedian's adventures in Paris in the mid-1950s.
Inspired by his heroes, the writers Jean Paul Sartre and Albert Camus, a young Les Dawson (Bradley) left his home in Manchester to live in Paris in order to pursue his dream of becoming a serious novelist. Unfortunately, things didn't quite work out as he planned, and he ended up becoming a pianist in a brothel.
Written by Steve Pemberton, directed by Steve Bendelack, and produced by Red Production Company. Jemma Rodgers executive produces.
Urban Myths: Joan Rivers and Barbra Streisand.
Starring Katherine Ryan and Jessica Barden, this episode is based on Joan Rivers' recollections of a play she starred in with Barbra Streisand.Streisand has remained tight-lipped about the whole experience.
A 16-year-old Streisand (Barden), is in rehearsals for Driftwood, an off-Broadway play, when a woman, dressed head to toe in fur, bursts through the door. She's Joan Molinsky, although the world will soon come to know her as Joan Rivers (Ryan).
Joan is failing as a club comic and wants to turn her hand to more serious artistic pursuits. Unfortunately, the only part available is 'Mman in black', which Joan blithely demands is gender-swapped to 'woman in black'. Joan hasn't bothered to read the play, and therefore doesn't realise that the 'woman in back' and Barbra's character, Lorna, have a love scene together.
Written and directed by Sue Perkins and produced by Fulwell 73. Benjamin Turner executive produces for Fulwell 73.
Urban Myths: Hendrix and Handel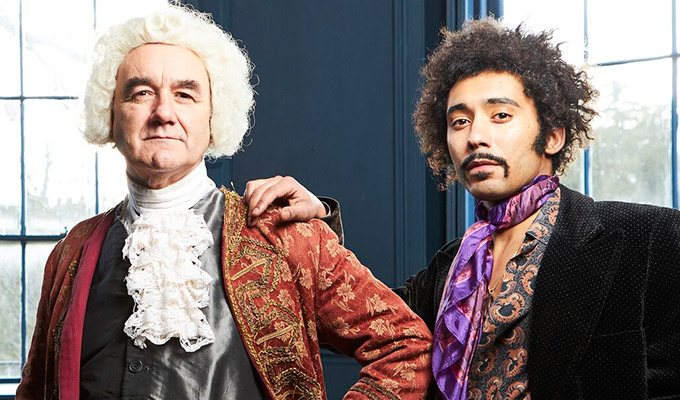 Starring David Haig, Zach Wyatt, Jonny Sweet and Kara Tointon.
Housemates separated by time, Jimi Hendrix (Wyatt) and George Frideric Handel (Haig) grapple with the stresses of the music business in this funny and intimate portrait of two eccentric musical geniuses.
In January 1969, Jimi Hendrix and his girlfriend Kathy Etchingham (Harriet Cains) moved into their first real home in Brook Street in London - the same building that Handel first called home 246 years earlier in 1743 where he wrote The Messiah.
The film imagines the events leading up to a transformative moment when Jimi saw Handel's ghost which he reported to Kathy.
Written by Cara Jennings and Sophie Trott and directed by Justin Chadwick, produced by John Rushton with executive producer Lucy Lumsden for Yellow Door Productions.
Urban Myths: Orson Welles in Norwich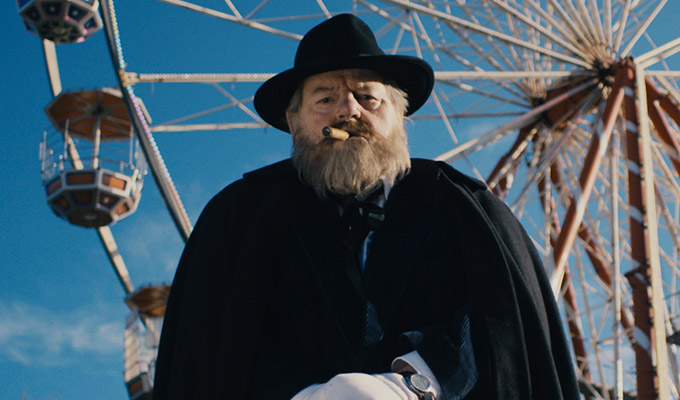 Robbie Coltrane stars as Orson Welles, who in 1972 was working on F For Fake, a faux documentary now regarded as his last masterpiece.
But the project has run out of funds, and Orson is skint says his manager (Craig Ferguson). However, opportunity comes from the most unlikely of places: East Anglia! Orson accepts work at a regional television station in Norfolk where he encounters an ambitious local news woman played by Derry Girls star Saoirse Monica Jackson, and then swiftly goes missing.
Written by Matthew Broughton and produced by Absinthe Film Entertainment. Richard Curson-Smith directs, Jeremy Campbell produces, and Robbie Coltrane and Lucy Lumsden are executive producers.
Published: 12 Feb 2020
Recent News
What do you think?