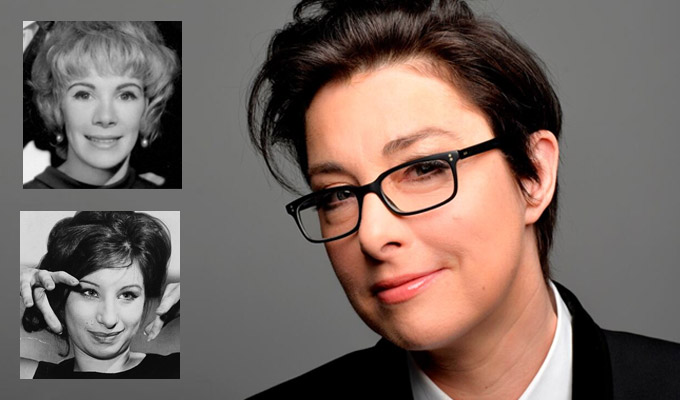 Sue Perkins directs her first film
Sue Perkins is directing her first film – about a controversial lesbian kiss between Joan Rivers and Barbra Streisand – Chortle can reveal.
The former Bake Off host has also written the script for When Barbra Kissed Joan, a short for Sky's latest Urban Myth season.
It focuses on Rivers's first play, in which the future comic reputedly played the lover of Streisand's character.
Both the stars were unknown in 1959 when they appeared in the six-week run of the potboiler Driftwood, staged in a 40-seat venue set up in the New York apartment of playwright Maurice Tei Dunn.
Rivers was 26 at the time and performing under her birth name, Joan Molinsky, while 16-year-old Streisand played a 35-year-old.
The comic recalled the experience in a 2010 interview, saying: 'The first play I did was in Greenwich Village. Barbra Streisand and I played lovers and we kissed. This was before she was singing, before anything. I knew she was talented, but you never know what someone will be. She was a fabulous kisser, that's what I knew.'
Rivers, who told variations on the story throughout her career, also claimed that the play originally called for a male character. But producers couldn't cast it, so she offered to do it if the characters were made lesbians. Streisand was 'really thrilled' with the idea Rivers said.
However, Driftwood's writer, Maurice Tei Dunn, has contradicted Rivers's version of events.
'There was no lesbianism in my play,' the playwright told James Spada, author of Streisand: Her Life. 'I can't imagine where Joan got that. In those days, it would have been suicide in the theatre.
'Barbra and Joan never had a single exchange together. They were never on stage at the same time. That picture of them together in Joan's book was posed during rehearsals.'
Casting further doubt on Rivers's story, he said that the play was never reviewed and that he only closed it down after six weeks because he was afraid that patrons with cigarettes were going to burn down the attic performance space at his apartment on East 49th Street.
When Rivers died, Streisand said: 'I first met Joan Molinsky, that was her real name, when I was 17 years old and we were both in an off, off Broadway show called Driftwood. She was a real character then and now. I am so upset by her passing. She was too young and had too much to do still.'
When Barbra Kissed Joan is being made by James Corden's production company Fulwell 73, one of the producers of Gavin & Stacey. Casting is currently under way.
The upcoming fourth series of the Sky Arts Urban Myths series also includes In Bed With Tracey Emin, starring Morgana Robinson as the artist, written by her regular collaborator Nico Tatarowicz.
Chortle also understands that production is underway on Handel & Hendrix, featuring Jonny Sweet and The Thin Blue Line's David Haig, about 18th-century composer George Friedric Handel and 20th-century guitar legend Jimi Hendrix. The pair lived at the adjoining 25 and 23 Brook Street address in London, two hundred years apart. The site is currently a museum dedicated to both of their lives and works.
Currently appearing in the Emma Thompson-penned festive film, Last Christmas, Perkins will next be seen cameoing with her double-act partner Mel Giedroyc in the film adaptation of Caitlin Moran's book How To Build A Girl, directed by Giedroyc's sister Coky.
Next year Perkins and Giedroyc will also star as inept assassins in the Sky One comedy Hitmen. And Perkins has recently piloted the gameshow Alias for Channel 4.
by Jay Richardson
Published: 17 Dec 2019
What do you think?