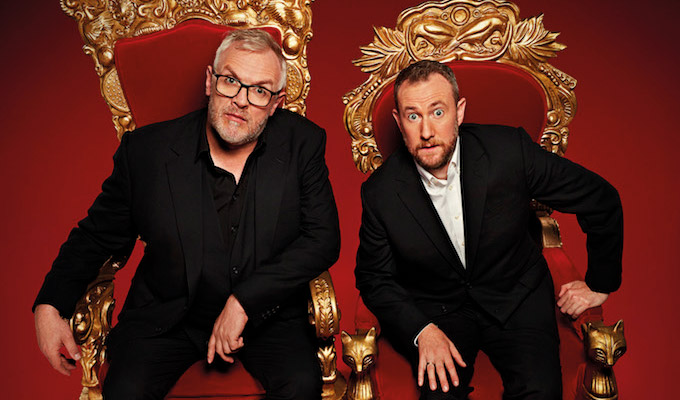 Comedy drives UKTV success
New comedy shows have been the main driving force behind a 4 per cent growth in audience for UKTV's family of channels.
Original programmes commissioned by the broadcaster account for seven out of the top 10 programmes across the network – and six of them are comedies.
Taskmaster remains its runaway success, attracting a peak audience of 1.3million viewers to Dave – although Alex Horne's show has now been poached by Channel 4, which will air future series.
On Gold, the remake of Dad's Army episodes that had been wiped from the archives was the highest-rating programme last year, attracting 963,000 viewers – the second-biggest audience ever for the channel.
And modern-day comedy fared well, too, with The Cockfields, starring Diane Morgan and co-writer Joe Wilkinson, achieving a consolidated audience of 788,000, making it the most-watched launch ever for Gold.
The top ten programmes across UKTV channels last year, with their peak audiences, are:
1.Taskmaster (Dave), 1.3million
2. Dad's Army Lost Episodes (Gold) 963,000
3. The Cockfields (Gold) 786,000
4. Dial M for Middlesbrough (Gold) 765,000
5 Death in Paradise (Drama) 618,000
6. Dave Gorman: Terms and Conditions Apply (Dave) 612,000
7. The Brokenwood Mysteries (Drama) 597,000
8. Call the Midwife (Drama) 528,000
9. Traces (Alibi) 524,000
10. Hypothetical (Dave) 520,000
All are original commissions except Death in Paradise, The Brokenwood Mysteries and Call The Midwife.
Just below the top ten was Comedians Giving Lectures, fronted by Sara Pascoe, while well-performing archive shows that didn't quite make the list included Last of the Summer Wine, Only Fools and Horses and QI XL.
The viewing figures for the past year show that the Dave channel is now the No1 channel outside the public service broadcasters (BBC, Channel 4 and ITV) for the 16-24 age group.
Marcus Arthur, chief executive of UKTV said: 'We are a significant investor in British creativity and committed to working with new and established on and off-screen talent and producers, which has been demonstrated by our strong slate and success in 2019. We've more than doubled our development budget in the last 12 months and worked with nine new production partners.'
The report notes Dave's work with comedians and its new sponsorship of The Edinburgh Comedy Awards, won by Jordan Brookes. The channel commissioned nine original series over the year and worked with more than 100 comedians.
New shows coming to Dave in 2020 include the feature-length Red Dwarf, a second series of the Josh Widdicombe and James Acaster-hosted Hypothetical, and the sitcom Meet the Richardsons starring husband-and-wife Jon Richardson and Lucy Beaumont.
And Sandylands, a seaside-set comedy series featuring Sanjeev Bhaskar, David Walliams, Sophie Thompson, C Natalie Dew, Craig Parkinson and Hugh Bonneville will be coming to Gold in March.
Published: 21 Jan 2020
What do you think?