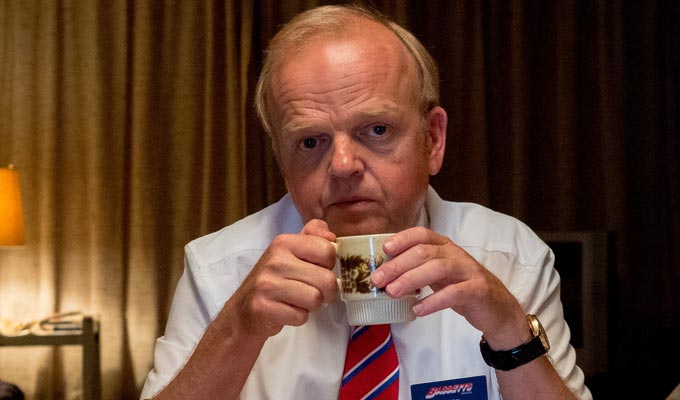 Don't Forget The Driver to make a return trip
Toby Jones's comedy Don't Forget The Driver is returning for a second series, Chortle can reveal.
BBC Two have ordered six more half-hour episodes of the show, starring Jones as a Bognor Regis coach driver who discovers an asylum seeker after taking a trip across the channel.
Jones is returning as put-upon single father Peter Green in the dark comedy he co-writes and created with actor-playwright Tim Crouch, but further cast details have yet to be revealed.
Erin Kellyman played his daughter Kay in the first series, with Marcia Warren as his ailing mother Joy, Claire Rushbrook as his confidant Fran, Danny Kirrane as his fellow driver and newcomer Luwam Teklizgi as the refugee he takes into his home.
The first series of Don't Forget The Driver opened strongly with more than 2.2million viewers, doubling its 10pm slot average. But it slipped to less than half of that by the end of its run.
Critical reception was mixed. 'If it is comedy, it is one with the bleakest tragedy at its heart' said the Guardian. 'But whatever label you put on it, it is a fine, fine piece of work'.
The Telegraph felt that 'the bleak worldview and melancholic mood made it uncomfortable to watch at times, more akin to a low-key drama than a comedy. Don't Forget the Driver, sure – but don't forget the jokes either.'
The Times reckoned 'Peter is a presence, not a person, and almost everyone else is a "character"'. But the Daily Mail took the opposite view, saying it was 'even better than expectations. Poignant, dark, topical and peppered with explosive laughs, the opener in this half-hour six-part series made us feel more connected to its characters than many shows manage in an entire run.'
Don't Forget The Driver is made by Hootenanny, the comedy label of independent production company Sisters Pictures, makers of Broadchurch and Channel 4 comedy Flowers.
Here's the trailer from series one:
- by Jay Richardson
Published: 16 Jan 2020
Recent News
What do you think?