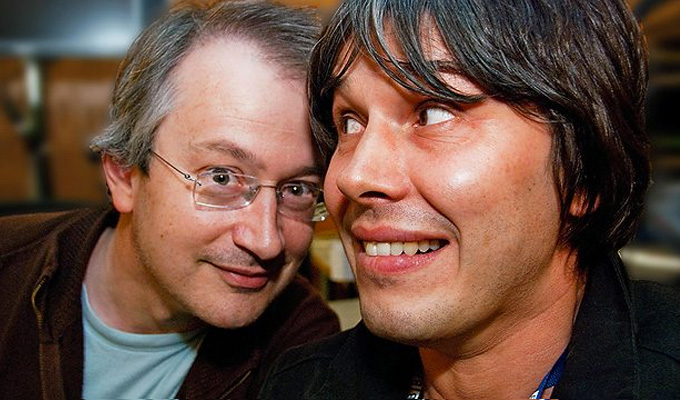 Why quack is funnier than moo
The best of the week's comedy on TV and radio.
Monday January 13
THE INFINITE MONKEY CAGE: Brian Cox and Robin Ince return for a new series of science chat - with the first episode of special interest to comedy fans as they are joined on stage by Frank Skinner to look at the science of what makes us laugh. Experts Sophie Scott and Richard Wiseman look at why laughter is an ancient human trait that goes a long way to making us the social animal we are today, discover whether science can come up with the perfect joke, and discuss why a gag with the punchline 'quack' is funnier than one with the punchline 'moo'. Radio 4, 2.15pm. (Incidentally Ince is bringing his Book Shambles to the Chortle Comedy Book festival in Sunday, co-hosted with Josie Long and with guest Mark Steel. Tickets.
Tuesday January 14
8 OUT OF 10 CATS: Comics Jamali Maddix and Maisie Adam guest alongside team captains Rob Beckett, Katherine Ryan and host Jimmy Carr. Presenters Angela Scanlon and Joe Swash also appear. E4, 9pm
Wednesday January 15
GOOD OMENS: Amazon Prime viewers have most likely already seen it, but Terry Pratchett and Neil Gaiman's fantasy comedy now arrives on BBC Two. Michael Sheen plays the angel Aziraphale existing on Earth as a rare book dealer and David Tennant is his opposite number, the fast-living demon Crowley. Both have lived among Earth's mortals since The Beginning and have grown rather fond of the lifestyle and of each other, even though that is strictly forbidden. And now Armageddon's due, they have to figure out what to do… BBC Two, 9pm
Thursday January 16
DELVE SPECIAL: Radio 4 Extra repeats this 1984 series in which Stephen Fry plays spoof undercover investigative reporter David Lander, In this episode he investigates irregularities over plans to site a new London airport - near Birmingham. Radio 4 Extra, 10.30pm
Friday January 17
THE LAST LEG: Adam Hills, Josh Widdicombe and Alex Brooker return for a 19th series. Channel 4, 10.pm
Saturday January 18
PERSONAL SERVICES: Julie Walters plays the madam running a brothel in her suburban home in this 1987 comedy film, loosely based on the notorious activities of Cynthia Payne. Directed by Terry Jones of Monty Python fame. Talking Pictures TV, 9.30pm
Published: 12 Jan 2020
What do you think?