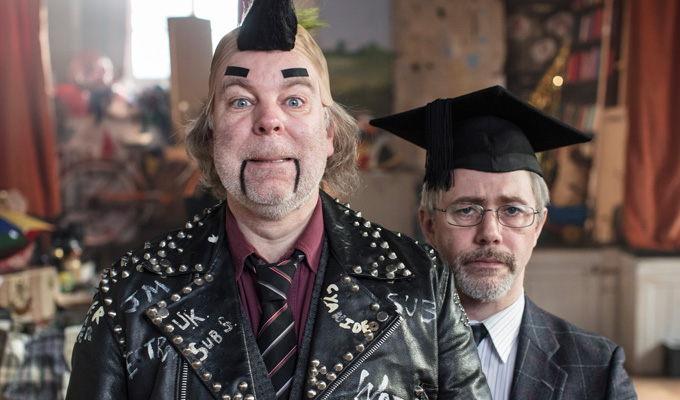 Inside No 9 'could become a stage show'
Inside No 9 could become a stage show.
Steve Pemberton says he and co-creator Reece Shearsmith have discussed transferring their anthology show for the stage.
'We certainly have talked about doing stage versions,' he said. 'Whether it be pre-existing scripts or new ones.'
'I think possibly that might be something we'll look at in the future.'
But speaking at a preview screening of two episodes from the imminent fifth BBC Two series last night, he downplayed suggestions of an Inside No 9 movie.
'We haven't really talked about doing a film because thankfully they keep recommissioning the series,' he said.
'[Also], we really like the 30-minute format. I think it really suits us to not have to artificially bloat the stories, to keep things punchy, and we enjoy that.
Earlier this week, Chortle revealed that Inside No 9 was to get a sixth series.
And we also reported that Pemberton has written an upcoming Urban Myths film about the time Les Dawson claimed he spent as a pianist in a Parisian brothel.
The two episodes screened at the BFI on London's South Bank last night were:
The Referee's a W***er: The beautiful game. The crunch-clash between United and Rovers in the last match of the season, all safely in the care of the four match officials. David Morrissey, Ralf Little, Dipo Ola and Steve Speirs join Shearsmith and Pemberton for a tale of promotion, relegation, corruption, and so, so much more.
The Stakeout: Two police officers have time to get to know each other on the night shift. But PC Thompson's previous partner died in a brutal attack less than a month ago, the forensics have gone missing and PC Varney is beginning to ask a lot of awkward questions.
Other guest stars on Series 5 – which is expected to air early in February – will include Maxine Peake, Kadiff Kirwan, David Morrissey and Jenna Coleman.
Published: 11 Jan 2020
What do you think?