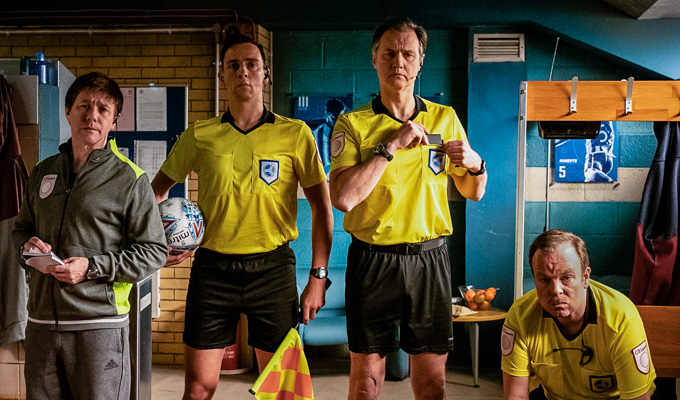 Exclusive: Inside No 9 is getting a SIXTH series
Inside No. 9 will return for a sixth series, Chortle can reveal.
A source close to creators Reece Shearsmith and Steve Pemberton confirmed the news, ahead of the broadcast of season five.
No transmission date has yet been announced for the fifth series, let alone the sixth, but new episodes are thought to be imminent.
Two installments will be shown at the BFI in London this Friday, while Shearsmith last week tweeted that the full series was ready as long ago as April 2019. He added that the delay in its broadcast was 'nothing to do with us'.
The news of a sixth series comes after Shearsmith and Pemberton, signed an exclusive deal that gives the BBC's independent programme-making arm, BBC Studios first refusal on new comedy and comedy-drama projects being developed by the pair.
Speaking when the deal was announced, Josh Cole, head of comedy for BBC Studios Production said: 'Reece and Steve are two of the most extraordinarily talented and distinctive creators working today. Their gift for comic storytelling knows no bounds and we're hugely excited to be developing new projects with them.
Naturally plots of Series 6 have not yet been revealed. However guest stars on Series 5 will include Maxine Peake, Kadiff Kirwan, David Morrissey and Doctor Who's Jenna Coleman.
The two episodes being screened at the sold-out event this week are described as follows:
The Referee's a W***er: The beautiful game. The crunch-clash between United and Rovers in the last match of the season, all safely in the care of the four match officials. David Morrissey, Ralf Little, Dipo Ola and Steve Speirs join Shearsmith and Pemberton for a tale of promotion, relegation, corruption, and so, so much more.
The Stakeout: Two police officers have time to get to know each other on the night shift. But PC Thompson's previous partner died in a brutal attack less than a month ago, the forensics have gone missing and PC Varney is beginning to ask a lot of awkward questions.
Shearsmith and Pemberton's League Of Gentlemen partner Mark Gatiss slipped a reference to Inside No 9 in the BBC's new adaptation of Dracula, which he co-wrote with Steven Moffat. In scenes set on a boat heading to Whitby, the cameras lingered on the door of cabin No 9.
Shearsmith tweeted: 'BBC "Dracula" is brilliant. Fresh, funny, scary - all hard things to do on their own. Magic to see them done together. And of course I loved our "No.9" nod from @Markgatiss.'
- by Jay Richardson
Published: 6 Jan 2020